Christian McCaffrey is a household name in football. What you may not know is that the McCaffrey name is already well known in the sports world, and there are plenty of brothers where Christian came from, such as younger brother Luke who is a top playmaker for the Rice Owls.
Luke McCaffrey has been making an impact for the Rice Owls since he arrived in 2021 and was the team's Offensive Player of the Year in 2022. He has the perfect opportunity to take his career to the next level in 2023, after the No. 1 wide receiver, Bradley Rozner, transferred out of the program. Luke is the baby brother of the group, but he and his brother Christian will cement the McCaffrey family as a football dynasty.
Who Are the McCaffrey Parents?
Related: Christian McCaffrey's Dad Used to Have Kyle Shanahan Babysit Christian
For football historians, the name Ed McCaffrey likely rings a bell. The wide receiver had a 13 -year NFL career with the Giants, 49ers and Broncos. Ed has two Super Bowl rings from his time with Denver, from 1996 to 2003. Dad McCaffrey also had a college head coaching stint with Northern Colorado from 2020 to 2022. We can see where Christian and Luke get their good looks — Ed doesn't look a day over 21.
Lisa McCaffrey is also a talented athlete, in addition to birthing and raising four male athletes. McCaffrey was a soccer star at Stanford University, playing from 1987 to 1989 and winning a letter each year.
Some of the parents and siblings of Lisa and Ed also have strong collegiate records in basketball, tennis and football. Most notably, Lisa's father is the legendary Dave Sime, who won the silver medal in the 100-meter dash at the 1960 Olympics in Rome.
Now that we know where the McCaffrey boys got their athletic talents, let's meet the brothers.
Dylan and Max McCaffrey
Related: Christian McCaffrey Fell in Love With Former Miss Universe Olivia Culpo
All four brothers have football ties. Dylan was a quarterback for Northern Colorado as recently as last year and spent two years playing Michigan ball. The oldest brother, Max McCaffrey, played for Duke and was a two-time All-American Academic. He was on several NFL practice squads but ultimately decided to use his football expertise to coach at Northern Colorado for three seasons. He is now an offensive assistant for the Miami Dolphins.
Christian McCaffrey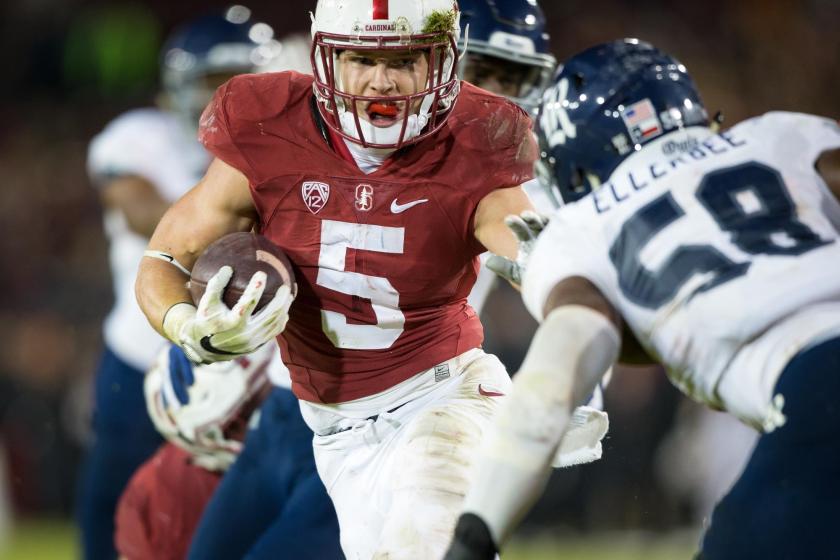 Christian, one of America's favorite running backs, has been a star since his Stanford days from 2014-2016. He came in second place, behind Derrick Henry, for the Heisman Trophy in 2015.
Selected eighth overall in the first round of the 2017 draft, Christian has been in high demand since he entered the NFL. He was a Carolina Panther for six seasons and was traded to the 49ers in 2022 for a second-, third- and fourth-round pick in this year's draft and a fifth-round pick in 2024.
Although McCaffrey has struggled with injuries throughout his career, his impact is so large when he is on the field that he is a need, not a want, for any roster.
Christian is a strong supporter of brother Luke, tweeting this earlier this year:
Proud of my dog! It?s only up! https://t.co/L3AkJlhjFW

— Christian McCaffrey (@CMC_22) January 21, 2023
For more about Luke McCaffrey and the Rice Owls, read their 2023 season preview.
Want More Sports News?
Get the biggest and best sports news sent directly to your inbox.