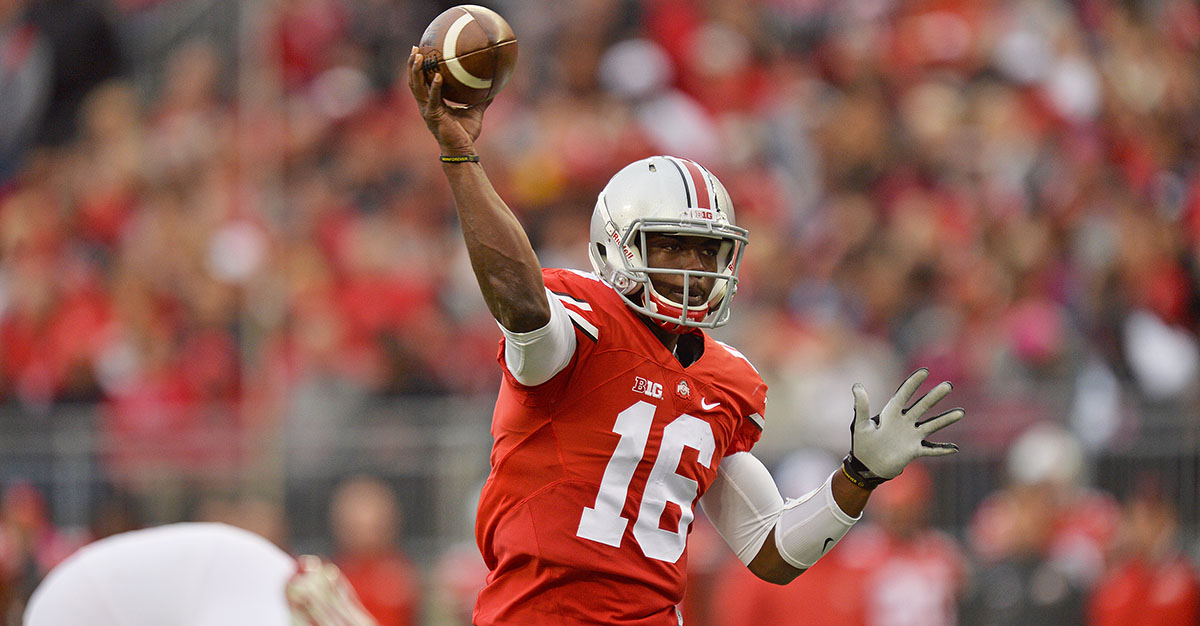 Jamie Sabau/Getty Images
J.T. Barrett has one more year at the helm for the Ohio State Buckeyes and the former Big Ten Offensive Player of the Year isn't shy about the fact that he is "the guy" for Urban Meyer and company. In fact, one of Barrett's backups, incoming freshman Tate Martell, found that out first hand this week, as Barrett lit Martell up through the media.
Eric Seger of 11W brings word of what he said:
"I wish you could ask him how his first two days went. It's not Bishop Gorman (Martell's high school) that's for sure. (Tell Jerry Emmig — Ohio State communications director — to bring him out then). I ain't going to do that. He'd probably cry or something."
The quotes are, in short, hysterical and Barrett didn't hold back in letting Martell know that he wasn't quite ready to light the world on fire at the college level. Fortunately for his young protege, Barrett did walk the comments back in the second part of his answer, courtesy of Jordan James of 247Sports.
"There's certain things we talk about. Something little is that he's shorter than I am. There are certain plays where you have to get taller in order to make the throw. I was like, 'Man, they're going to blast you if you don't get out of there, man.'

"He's getting better. I think he's starting to adjust to it. Because when you come in and you come in from high school, he was the big fish in a small pond and now he's a guppy in a big pond. With that adjustment to it, I think he's going to be all right."
Ohio State fans will keep a close eye on Martell moving forward, as the dual-threat quarterback was a big-time recruit coming out of Las Vegas. Still, it is J.T. Barrett's world for another year and he wanted everyone to know.