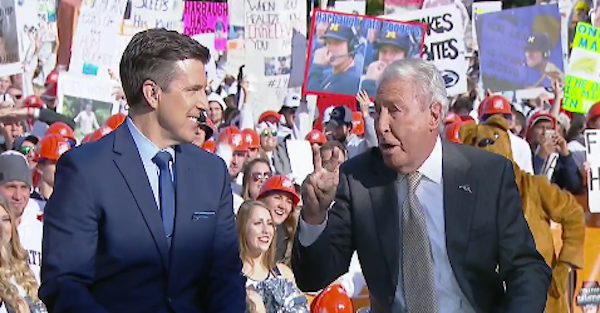 Clippit screenshot
Alabama is blitzing through the college football season (what's new?) and Georgia isn't far behind.
But one team is destined to lose a game even if they finish the regular season unbeaten. If things hold how they are, Georgia and Alabama will meet in the SEC Championship game. And Lee Corso believes no matter who loses and as long as it's a close game, both teams will make the College Football Playoff over other one-loss teams, such as Notre Dame and Clemson.
Georgia's path is pretty clear — avoid pitfalls in SEC play and a sneaky Georgia Tech team and the Bulldogs could be in. The same goes for the Tide, which looks far and away as the best team in the country. Games against LSU and Auburn are always challenging, but Alabama appears well-equipped to handle anything.
There's still a good chunk of season left to be played, but this could conceivably leave the ACC out in the cold. Clemson would likely need to go unbeaten the rest of the way and win in the ACC Championship game to even be in the conversation. Miami has narrowly avoided losses in back-to-back weeks against Florida State and Georgia Tech. The Hurricanes may be the ACC's best shot at getting into the playoff, with a huge showdown against contending Notre Dame in the coming weeks.
The Fighting Irish needs to finish the season unblemished as well, and a win over No. 11 USC could go a long way in helping bolster that record. Their lone loss came at the hands of Georgia, in a one-point loss at home.
As of now, Alabama sits at No. 1, Penn State (ahead of their huge Saturday night tilt with Michigan) holds steady at No. 2 and Georgia is rolling along at No. 3.
TCU and Wisconsin round out the top five, respectively.