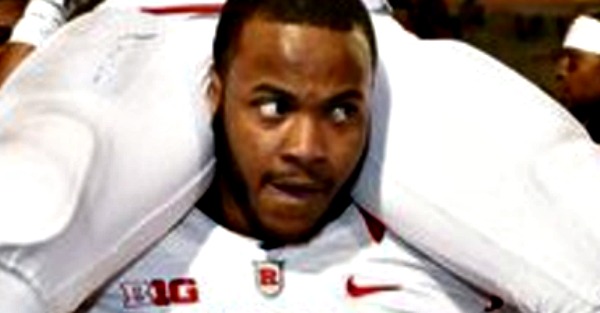 Liberator Sports via Twitter
A former Rutgers football player is being held without bond after he was charged in what prosecutors are calling a "revenge killing."
Lester Gene Liston Jr., 22, was arraigned on charges in Genesee County (MI) District Court of first-degree murder, felony firearm, possession with intent to deliver cocaine less than 50 grams and careless discharge of a firearm causing injury or death, according to MLive.com.
Prosecutors allege that Liston Jr. gunned down a man named Larry James Dunn on July 30. Dunn, 44, was shot multiple times, and prosecutors claim that Dunn was killed in retaliation for another homicide.
Listen Jr. was arraigned on August 4, and has a court appearance coming up on August 17.
Listen Jr. was a rising prospect for Rutgers, and as a junior, he said he intended to win the team's starting middle linebacker's job. But he had a checkered career for the Scarlet Knights. As a sophomore, the 6'2, 235 former three-star recruit from Flint, Michigan was held out of two practices when he came in out of shape, and was suspended for a game when he failed to meet academic requirements, according to NJ.com. He left the team as a junior, saying he was going to be a father.