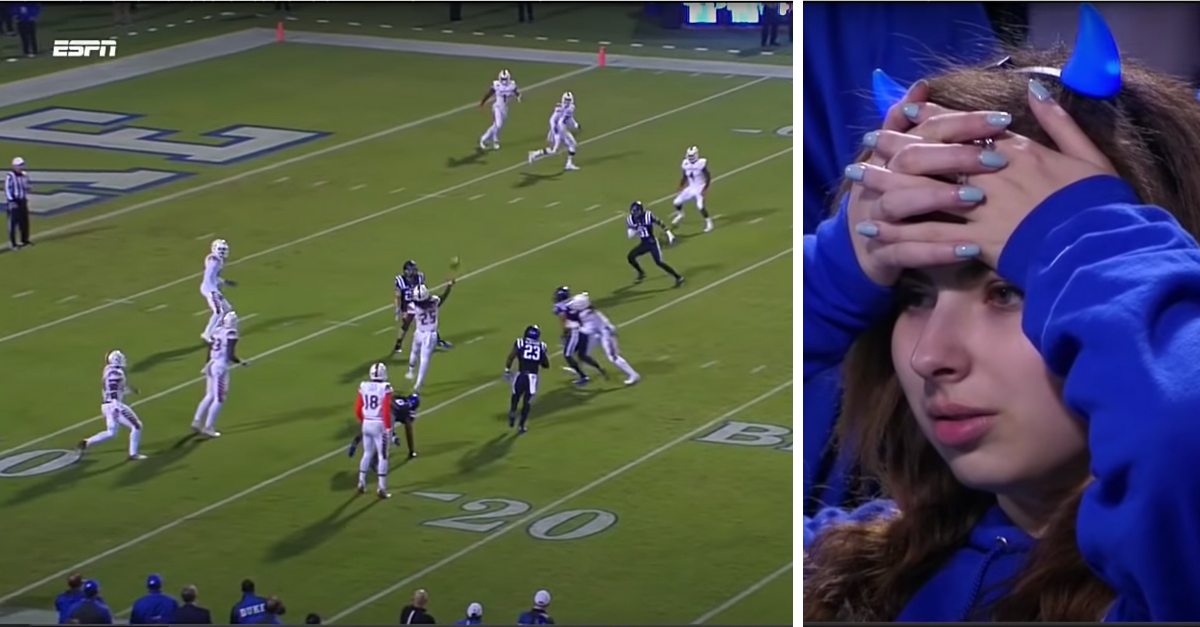 Screenshot from YouTube: ESPN College Football
College football history is littered with exciting game-ending plays. The Hail Mary might be the most obvious one — Doug Flutie created the most memorable of those, LSU shocked Kentucky on "The Bluegrass Miracle" and the Florida Gators stunned Tennessee on a miraculous last-second heave into the air.
The NCAA's heart-pounding lateral plays have a special place in our hearts, too. Stanford and Cal's "The Play" featured five laterals and football field full of band members. The "Mississippi Miracle" need 15 laterals and, well, a dash of luck.
One of the more incredible last-ditch efforts to win a game came when the Miami Hurricanes found themselves losing by three to the Duke Blue Devils in Durham, North Carolina, in 2015.
Let me preface this video by saying this play was all sorts of ugly. Duke players basically run around like chickens with their heads cut off for 49 freakin' seconds. No one seems to step up and make a play to put this craziness to an end.
But, as you'll see, the miraculous play maybe should not have counted.
Miami's 8-Lateral Miracle Against Duke
RELATED: "The Mississippi Miracle" Featured 15 Laterals and a Bunch of Luck
Amazing!
Spectacular!
There's no way the Hurricanes just pulled that off!
"I saw it. I saw it coming," Miami's Corn Elder, who now plays in the NFL for the Carolina Panthers, told ESPN.com about scoring on the play. "Once I got it I saw the open lane and I knew something special was happening."
Here's the thing about that special player: Miami had some help from the referees.
ACC: 'Referees Blew The Call'
On the fourth lateral of the kickoff return, Mark Walton tossed the ball behind him to Jaquan Johnson. You can't tell by the naked eye, but replay showed that Walton's knee was down before he let go of the ball. Duke coach David Cutcliffe thought so as well and cited pictures that back up his claim. Duke fans agreed, of course.
Even the ACC admitted its officiating crew fudged up in allowing Miami to continue its miracle.
The league suspended the crew, the replay official and the communicator afterward, saying Walton's knee was down and that touchdown celebration in the end zone should have never taken place. Plus, the league said its refs missed an illegal block at the 16-yard line on the play AND a dead ball foul when a Miami player couldn't contain his excitement and ran onto the field from the sideline.
It seems the referees turned into fans for one play, and honestly I don't blame them. Maybe they just wanted to witness something amazing and forgot about the black-and-white shirts they were wearing.
Either way, the 2015 edition of Miami-Duke in Wallace Wade Stadium gave us one of the more unbelievable plays in recent memory.