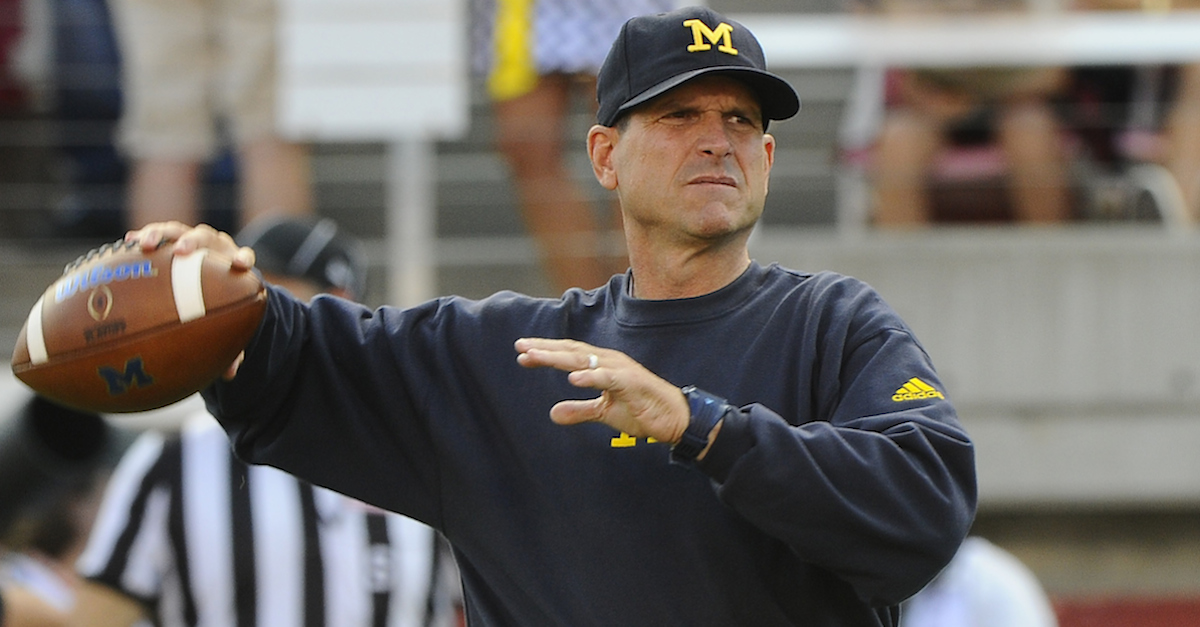 Gene Sweeney Jr/Getty Images
SALT LAKE CITY, UT - SEPTEMBER 3: Head coach Jim Harbaugh of the Michigan Wolverines warms up his quarterbacks before their game against the Utah Utes at Rice-Eccles Stadium on September 3, 2015 in Salt Lake City, Utah. (Photo by Gene Sweeney Jr/Getty Images)
The Michigan Wolverines have struggled mightily on the offensive side of the ball over the past two weeks and, at least part of that, is due to health issues for starting quarterback Wilton Speight. The redshirt sophomore was injured during the second half of a close-fought loss to Iowa and backup QB John O'Korn took the snaps during an ugly victory over Indiana a week ago.
In advance of the annual showdown with Ohio State, Jim Harbaugh isn't saying much about who will be under center, but a report has emerged declaring a "99 percent" likelihood that Speight will make a heroic return in Columbus.
It should be noted that no other outlet has been this aggressive in declaring Speight's likelihood of a return, but in reading the tea leaves, it seems as if many people close to the program expect the starter to give it a go in this spot. Against Indiana, Michigan's game plan was highly conservative with O'Korn under center and, frankly, it would be a shock if the Wolverines were able to pull the "upset" on the road if that mindset was enacted against in the Horseshoe.
Given Jim Harbaugh's track record, it would be shocking if an official announcement was made before game time so, until then, we are left to speculate.