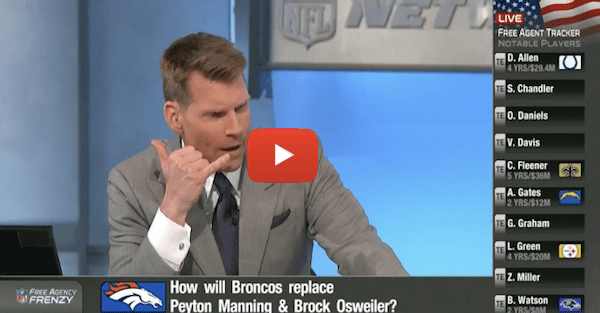 My god stop this madness right now. The Denver Broncos, who lost two quarterbacks in a week — Peyton Manning to retirement and his backup Brock Osweiler to the Houston Texans — are in the process of finding a replacement for those two.
The current available free-agent QBs as of right now include Ryan Fitzpatrick, Robert Griffin III and Chase Daniel. San Francisco 49ers quarterback Colin Kaepernick could potentially be on the market soon, too. In a nutshell — this whole group would be a big drop off from Manning, which is probably why Denver is taking its time with finding a quarterback.
On Thursday, NFL Network studio host Scott Hanson, for some reason, suggested that maybe John Elway should call up former Broncos quarterback Tim Tebow. Yes, that Tebow who hasn't played in a regular season game since 2012.
Come on Hanson, there are a plethora of names Elway would and could call before Tebow. Shout out to his co-hosts for shutting him down immediately.