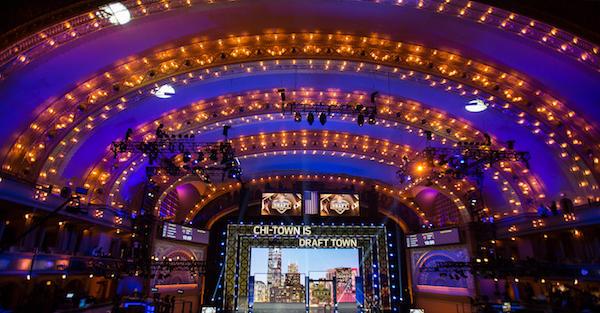 Kena Krutsinger/Getty Images
CHICAGO, IL - APRIL 30: The stage is seen prior to the start of the first round of the 2015 NFL Draft at the Auditorium Theatre of Roosevelt University on April 30, 2015 in Chicago, Illinois. (Photo by Kena Krutsinger/Getty Images)
There are several NFL teams, headlined by the Cleveland Browns, in need of a franchise quarterback for the future and that makes the 2018 NFL Draft very intriguing. While one player hasn't necessarily separated from the pack just yet, there have been times when USC's Sam Darnold, UCLA's Josh Rosen and even other players like Louisville's Lamar Jackson, Oklahoma State's Mason Rudolph and Oklahoma's Baker Mayfield have turned heads with stellar play.
However, there is a sleeper in the form of Wyoming quarterback Josh Allen and, even as many college football fans push back on his inclusion based on lackluster collegiate production, NFL scouts continue to salivate about his tools. Lance Zierlein of NFL.com caught up with an "AFC director of college scouting" this week and he praised Allen as "easily the most physically talented quarterback" available.
"He scares me like he scares everyone, but he is easily the most physically talented quarterback (in this class). He will get drafted much higher than the level of his tape."
Of course, the front office insider made sure to mention his tape being lackluster and Allen is completing only 55.9 percent of his passes (with 12 touchdowns and six interceptions) in eight games this season. Allen has shown more flashes lately, though, and it feels very safe to assume that he'll be a darling of some as the workout process commences this spring.
Some simply won't be convinced that Allen has what it takes to be a franchise quarterback, especially when compared to Darnold and Rosen. The other side, though, already seems to be in love and the debate will rage as a result.