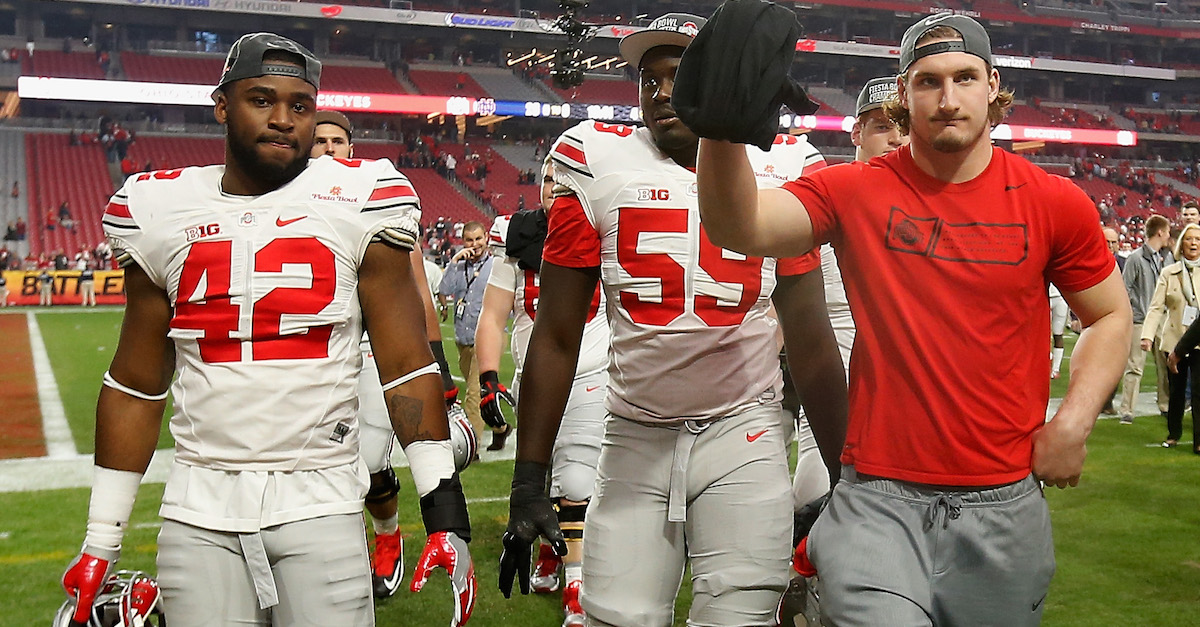 Photo by Christian Petersen/Getty Images)
GLENDALE, AZ - JANUARY 01: Defensive lineman Joey Bosa #97 of the Ohio State Buckeyes reacts as he walks off the field with Darius Slade #42 after defeating the Notre Dame Fighting Irish 44-28 in the BattleFrog Fiesta Bowl at University of Phoenix Stadium on January 1, 2016 in Glendale, Arizona. (Photo by Christian Petersen/Getty Images)
The Ohio State Buckeyes will be approaching the 2016 season with a great deal of roster uncertainty after major losses to the NFL. Now, Urban Meyer will be limited in his decision making with two different position groups, as both junior offensive lineman Malcolm Pridgeon and redshirt sophomore defensive lineman Darius Slade will be on the sideline for the foreseeable future as a result of injuries.
Meyer announced the losses during a Media Day address on Sunday, and both players were considered rotation possibilities for the Buckeyes this season. Pridgeon, who recently arrived as a junior college transfer, has a knee injury that will cost him an estimated three months of action, while Slade is expected to miss the entire 2016 campaign.
Slade is perhaps the more well-known of the two players after appearing in seven games a year ago, but the 6-foot-4, 258-pound defensive lineman suffered a ruptured achilles tendon and that is brutal news. Though the Buckeyes have a great deal of talent up front (hello, Nick Bosa), much of that talent is unproven and, with that, depth becomes magnified.
Neither Slade nor Pridgeon was expected to be dominant this season, but losing quality depth is never a good thing and Urban Meyer will potentially have his hands full at both positions in the near future.