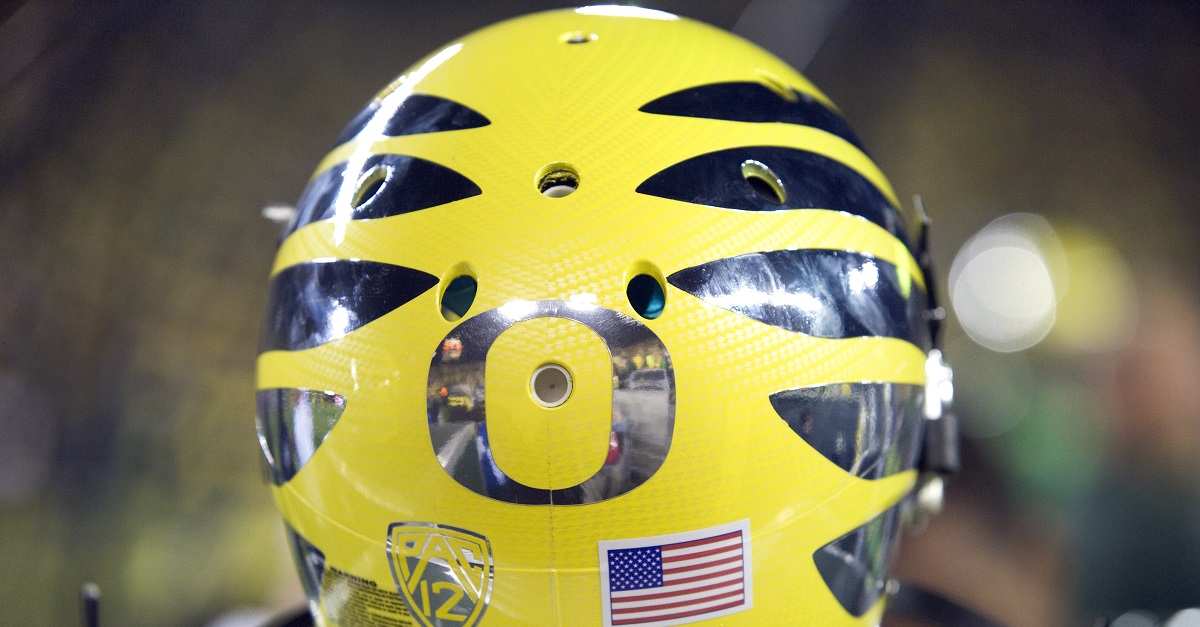 Steve Dykes/Getty Images
EUGENE, OR - OCTOBER 6: Close-up of the Oregon Ducks 'Liquid Metal' helmet during the the game between the Oregon Ducks and the Washington Huskies on October 6, 2012 at Autzen Stadium in Eugene, Oregon. Oregon won the game 52-21. (Photo by Steve Dykes/Getty Images)
Andrew Greif of The Oregonian is reporting that Oregon has banned two freshman football players from campus following a sexual assault investigation. Tristen Wallace and Darrian Franklin are currently under investigation in Lane County in connection with the allegations of sexual assault.
RELATED: Oregon president throws major shade at previous coaching staff with some coaching advice
No specifics of the case have been released by the District Attorney and the Lane County DA decided to investigate after receiving reports from both Eugene and University of Oregon police. Both players were suspended indefinitely back in October by former coach Mark Helfrich.
RELATED: Oregon has reportedly found its next head coach
There are no more details because the investigation is ongoing, but neither player has been charged with a crime as of now. Both redshirt players are still listed on the team roster on the school's website.
Five other players this past year have been in some sort of trouble with the law, which didn't help Mark Helfrich's case to stay on as head coach in addition to his 4-8 record this season. Two of those players were suspended indefinitely while one was kicked off the team and two others were never charged with anything.
[h/t Bleacher Report]