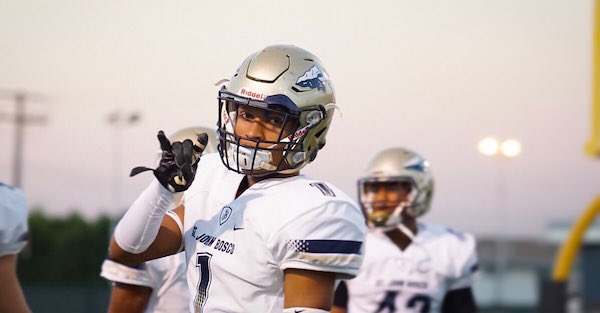 @KinggChris7/Twitter
@KinggChris7/Twitter
Five-star defensive back Chris Steele told 247Sports that he will announce his college commitment on Sept. 27.
"Now that I can take all my official trips in the spring, I can still make an early commitment so I'll be able to focus on Bosco football," Steele said. "September 27th is when I'll be making a decision and I just have one more trip date to set right now."
Steele is scheduled to visit Louisville on April 6, Oklahoma on April 14, LSU on April 21 and Florida on Sept. 8 before deciding on a school. However, he's still deciding on where he'll take his final visit before making his official announcement.
"Florida wants me to visit in December but I want it to be early since I'm now committing in September," Steele said. "So right now I have one open date but it could be two depending on what happens with Florida.

"I'm not really sure who that last visit will be, I have a lot of schools I'm looking at. I just talked with the Texas coaches and they really want me to visit. Alabama, Miami, Michigan, Oregon, Texas A&M, USC and a few others do as well so I'm not sure what I'm doing right now."
Steele has already made unofficial visits to LSU, Oregon, Texas A&M and USC recently and attended an Alabama camp last summer.
The Bellflower native currently ranks as No. 3 cornerback, No. 4 player from the state of California and the No. 29 overall prospect for the 2019 national recruiting cycle, according to the 247Sports Composite.