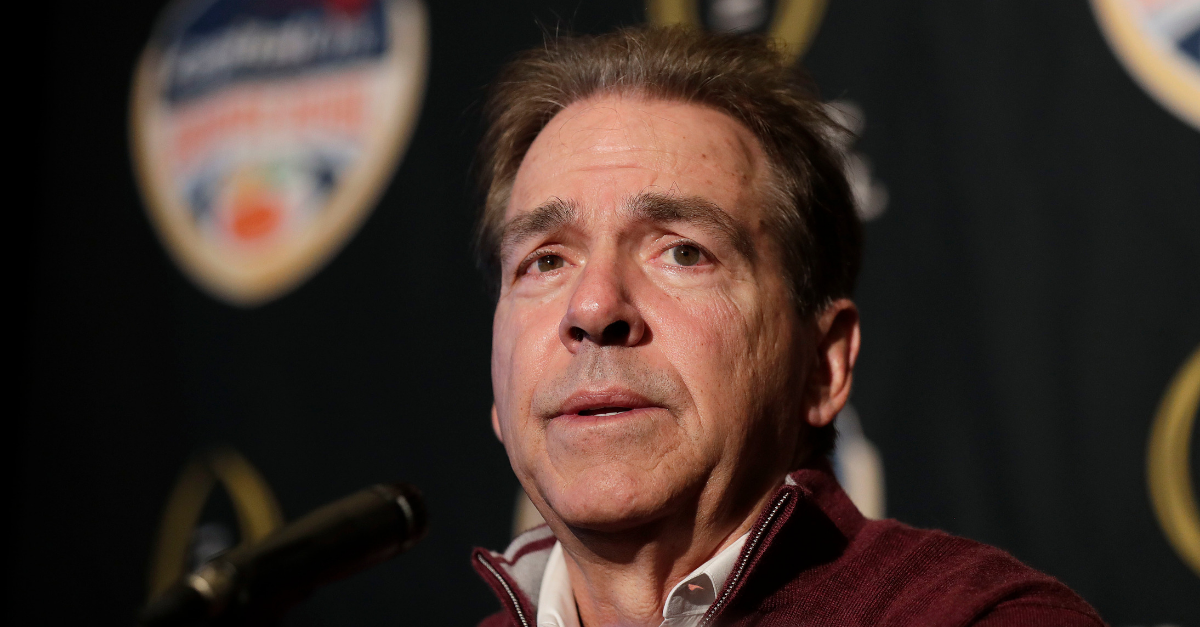 AP Photo/Brynn Anderson
AP Photo/Brynn Anderson
Ahead of the College Football Playoff, the Clemson Tigers have three players facing suspensions after they tested positive for ostarine, a banned muscle-growth substance. Among them is First-Team All-ACC defensive tackle Dexter Lawrence, who may have played his last game for the Tigers. The Alabama Crimson Tide are facing a similar predicament with three players of their own, and one key starter, now suspended indefinitely.
Alabama coach Nick Saban announced that starting left guard Deonte Brown, tight end Kedrick James and reserve offensive lineman Elliot Baker will be suspended the rest of the season due to unspecified NCAA violations, according to AL.com.
None of the players made the trip with the Crimson Tide to Miami Gardens for the game on December 29.
During Thursday morning's press conference ahead of Alabama's showdown with Heisman Trophy winner Kyler Murray and the Oklahoma Sooners in the Orange Bowl, Saban gave brief details as to the nature of the suspensions, adding that it's uncertain at this point what the exact outcome will be for the players involved.
"These were NCAA violations. With those things carry certain consequences. Those players knew the situation. They made poor choices and decisions. We will support the players every way that we can, but they will not be available to play for the rest of this season and maybe beyond." — Nick Saban
RELATED: Uh Oh! This Porcupine Thinks an Orange Bowl Team is in Big Trouble
Sophomore tight end Kedrick James appeared in only five games this season without accumulating any stats, and redshirt junior tackle Elliot Baker has yet to play significant time for Alabama football as a highly-touted junior college transfer. The biggest hurdle for the Crimson Tide to overcome, though, will be stabilizing the left guard position vacated by Deonte Brown.
With Brown's help, as well as All-SEC teammates in tackle Jonah Williams, guard Alex Leatherwood, and center Ross Pierschbacher, the Crimson Tide's offensive line led the way for a rushing attack averaging 5.34 yards per carry (18th in the country) and has surrendered just 13 sacks, which is the ninth-fewest in the nation.
Although often overlooked, protecting quarterback Tua Tagovailoa is priority number one, and that job now falls to senior Lester Cotton ahead of the College Football Playoff semifinal game, plus a potential national championship game if Alabama wins Saturday's Orange Bowl.
Cotton was replaced by Brown midway through this season. The homegrown Tuscaloosa native started 18 games at right guard in his first three years before moving to left guard in 2018. The 2015 Under Armour All-American was graded as the No. 4 guard in the country by 247Sports, and he was named the Alabama Sports Writer Association's Class 5A Lineman of the Year playing at Tuscaloosa Central High School.
The 325-pound senior is back in the starting lineup following these suspensions, and if he's knows anything about teammate Jalen Hurts' story, this could be setting up another redemption tale for an Alabama player.