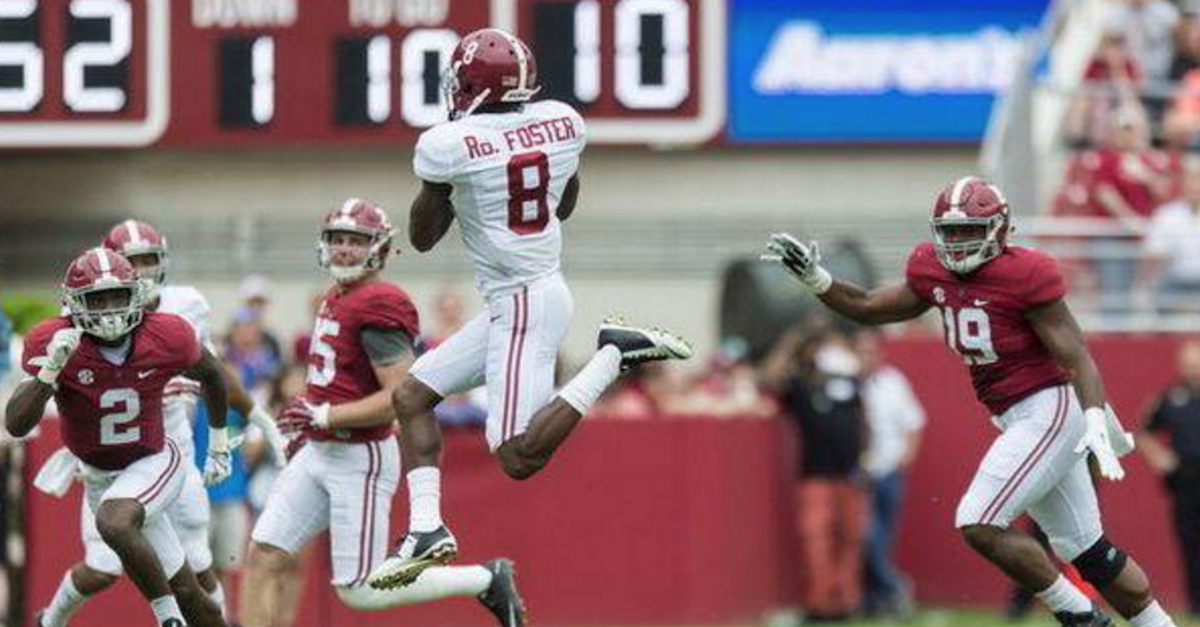 twitter
Last season Alabama struggled with depth at the wide receiver position. The team was hindered at the position by the NFL and injury and if it weren't for graduate transfer Richard Mullaney and the emergence of ArDarius Stewart Bama would have been in a world of hurt. Robert Foster was one of those receivers that went down for the Tide in 2015, grabbing 10 catches for 116 yards and two touchdowns in three starts before suffering a season-ending injury in Week 3 against Ole Miss.
Foster is back healthy now and is ready to be a difference maker for the Tide in 2016.
?It motivates to the highest right now,? Foster told the media, per the Dothan Eagle. ?I just want to help my team. It ain?t about last year. I?m not focused on last year. I?m focused on this year. I?m going to help my team.?

?People forget as great as Calvin Ridley was last year, Calvin actually backed Robert last year until Robert got hurt,? offensive coordinator Lane Kiffin told media members. ?To see Robert really develop ? I didn?t really see him his redshirt freshman year ? to see him grow in the program as part of the process and end up starting last year and scoring a touchdown in the opener ? I think he would have had a great season if he hadn?t gotten hurt."
Tuesday Bama updated Foster's injury status and things are looking good,
"I feel good," a smiling Foster said. "I feel like 100 percent. I'm ready to (be) the best that I possibly can to help my team and contribute to the receivers, and just ready to be out there."
With yet another new quarterback set to take over for the Tide, the offense will need every weapon in the arsenal ready for 2016. Hopefully Foster can maintain his healthy status and be another contributor to the passing game.