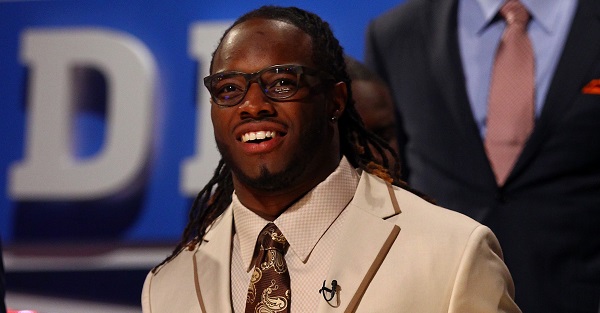 Al Bello/Getty Images
NEW YORK, NY - APRIL 26: Trent Richardson from the UNiversity of Alabama looks on on stage prior to being pick #3 overall by the Cleveland Browns during the 2012 NFL Draft at Radio City Music Hall on April 26, 2012 in New York City. (Photo by Al Bello/Getty Images)
Former No. 3 overall draft pick and Alabama star Trent Richardson has been in the news recently for an ugly reason. In February, Richardson was arrested on a domestic violence charge alleged by his ex-girlfriend, Sevina Fatu. This time around, though, it is Fatu that was reportedly arrested and the circumstances are quite bizarre.
Matt Zenitz of AL.com brings word that Fatu was "charged with two counts of aggravated battery and one count of criminal mischief" and the details are as follows:
Fatu had tried to call Richardson several times Monday before eventually driving to his home, according to the police report. When she arrived, Richardson and the other victim were sitting inside of Richardson's car. They tried to leave, but were blocked in by Fatu.

The other victim told police that Fatu eventually backed up the car, put it in drive and rammed into the passenger side of the car occupied by her and Richardson. She told police that she and Richardson then fled the car and called police after Fatu backed up and attempted to ram the vehicle again.

Fatu left the car and returned home, where she was later arrested, according to the police report. Richardson told police that he owns the Mercedes-Benz SUV used by Fatu and lets her use it for their children.
AL.com also brings word that Richardson firmly denies the domestic violence allegation from February and the former running back will be in court on the charge on April 12. As for the most recent incident, Fatu reportedly remains in jail as of Wednesday and this is a developing situation.
Issues like this are always messy and this fits that description. Ironing out the truth could take time and Richardson is in the news for less than stellar reasons yet again.