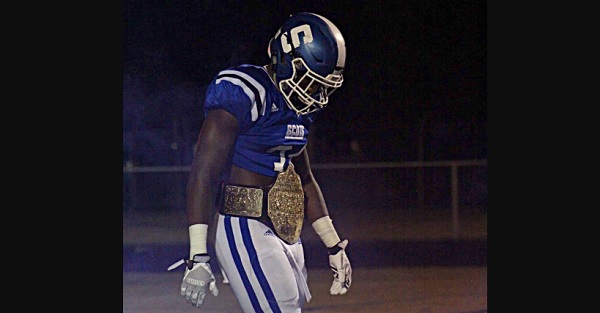 Twitter/@zeus1_34
Running back is a position that provides ample opportunity for immediate impact from freshman at the college level. With that in mind, Zamir White is one of the intriguing prospects in the country and the nation's top player at the position has a very interesting decision ahead.
The 5'11, 195-pound running back is electric with the ball in his hands and that has made him a very interesting target for the likes of Clemson, Alabama, Georgia and North Carolina. Mike Farrell of Rivals recently captured thoughts from the programs that are in the mix and they included full-blown predictions of what took place.
One such projection came from TigerIllustrated.com with regard to Clemson, who has been seen by many as the favorite to land White's pledge.
Clemson?s case is built upon being the best of both worlds ? it?s the closest option with the best football program. Plus, the Tigers have taken just two scholarship running backs the last three classes ? so there?s opportunity to sell, perhaps made more attractive when conjoined to the arrival of the nation?s No. 1-ranked quarterback in Trevor Lawrence. The reasons people have presumed Clemson the odds-on favorite for quite awhile haven't changed.
While North Carolina, which happens to be the in-state power where White dwells, appears to be on the outside looking in, Alabama is always a factor given their status as the best program in the land. Still, Farrell himself sheds light on what he believes after gathering all of this information and it is good news for Kirby Smart.
At one point, I was convinced that White would end up at Clemson and might even commit around Signing Day for the 2017 class, but his recent visits to UGA, the tradition they have with Keith Marshall and especially Todd Gurley hailing from North Carolina in addition to their recent running back success has me thinking Georgia would be the pick if he chose today.
It has to be said that no one can fully predict Zamir White's destination beyond himself and it will be a very interesting few months for one of the top five prospects in the country. Grab your popcorn and strap in.