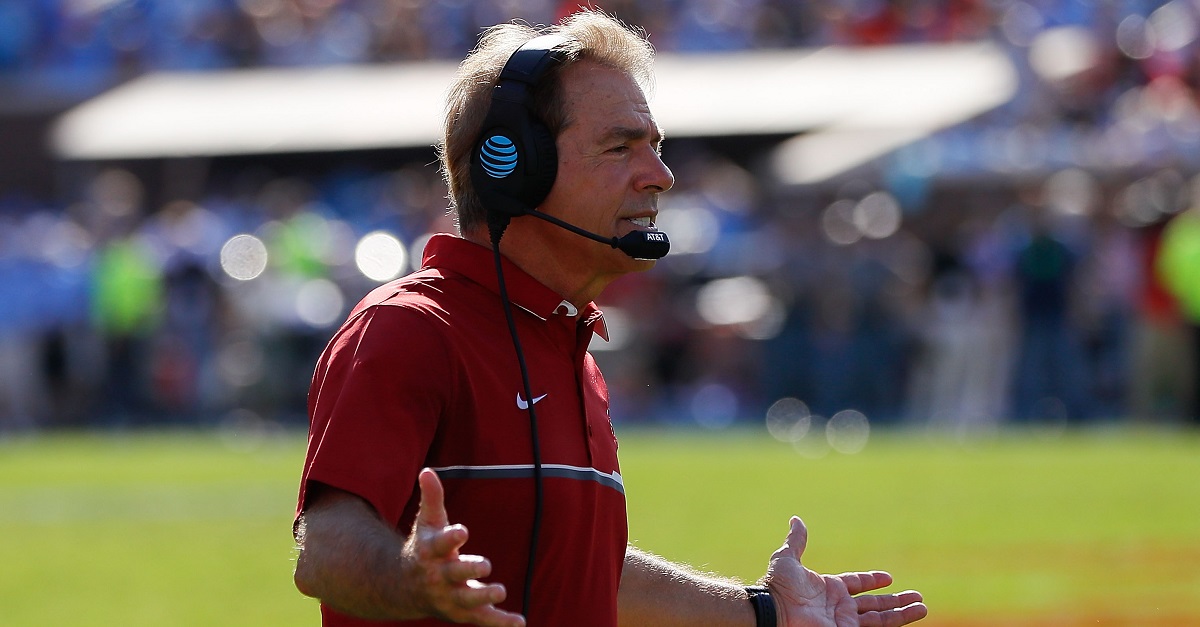 Kevin C. Cox Getty Images
OXFORD, MS - SEPTEMBER 17: Head coach Nick Saban of the Alabama Crimson Tide questions two flags on the field after a punt return touchdown against the Mississippi Rebels at Vaught-Hemingway Stadium on September 17, 2016 in Oxford, Mississippi. (Photo by Kevin C. Cox/Getty Images)
This is a message Nick Saban and the folks at Alabama aren't going to like.
Five-star wide receiver prospect Terrace Marshall and four-star quarterback Justin Rogers both  attend Parkway High School in Boisier City, LA. The team's coach, David Feaster, has sent a strong message to the Crimson Tide coaching staff:
"My guys know they can go to Alabama… and I will pull for them. I just won't help Alabama recruit my guys," Feaster said in an interview on 104.5 ESPN Baton Rouge show Off The Bench.
 RELATED: Terrace Marshall is considering some surprising teams.
Feaster's vitriol toward Alabama goes back to 2013 and the recruiting process for his then QB, Brandon Harris, He said Alabama offered Harris a scholarship and then pulled it when the coaches didn't warm to him during an official visit. He also said Harris found out the scholarship was pulled via an internet report.
Harris ended up at LSU, but Feaster still festers at the thought of what happened, so 'Bama isn't getting any help from him.
It may not matter much anyway, not this time around. Marshall, Louisiana's top prospect, is favored to attend LSU, according to 247 Sports' Crystal Ball predictions. Rogers, the No. 9 prospect in the state, could also end up at LSU, although TCU is strongly in the mix.