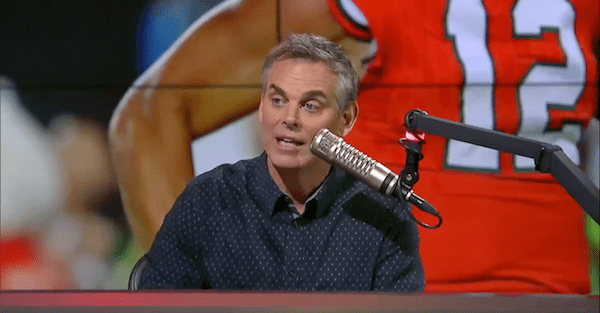 @TheHerd/Twitter
Alabama is No. 1 team in the country in the next College Football Playoff rankings, but the Tide haven't exactly been dominant in their latest two wins.
Nick Saban's team defeated LSU 24-10 and came from behind to beat Mississippi State 31-24, and injuries at linebacker have hurt the defense.
Meanwhile, Alabama's next opponent just submitted one of the best performances of any team this season. Auburn dismantled No. 1 Georgia 40-17, which set up an Iron Bowl showdown on Nov. 25 to decide the SEC West. The Tigers will be Alabama's toughest opponent of the season, and FOX Sports radio host Colin Cowherd predicted that Auburn would beat Alabama in two weeks.
Related: Report: Alabama starter expected to miss 2-4 weeks after injury
"Alabama will face their first real road test of the year against Auburn," Cowherd said. "That (Vegas) line has gone from 10 to 3. Alabama's going to lose that football game. They're missing four starters at linebacker alone. Out for the year with injuries. You can run on Alabama now."
While Auburn does pose a threat to Alabama and the Tide are lacking depth at linebacker due to injuries, it is a bit farfetched to simply dismiss a Nick Saban team that easily. They're still more talented than just about anyone in the country, and they have arguably the best coach of all time.
But this is the most vulnerable Alabama has been in some time. They're still 10-0 and will be 11-0 entering the Iron Bowl after facing Mercer this week, and they could easily win out and win another national title. It will be the most challenging championship run in some time for Saban's team, but if any coach can do it, it's Nick Saban.