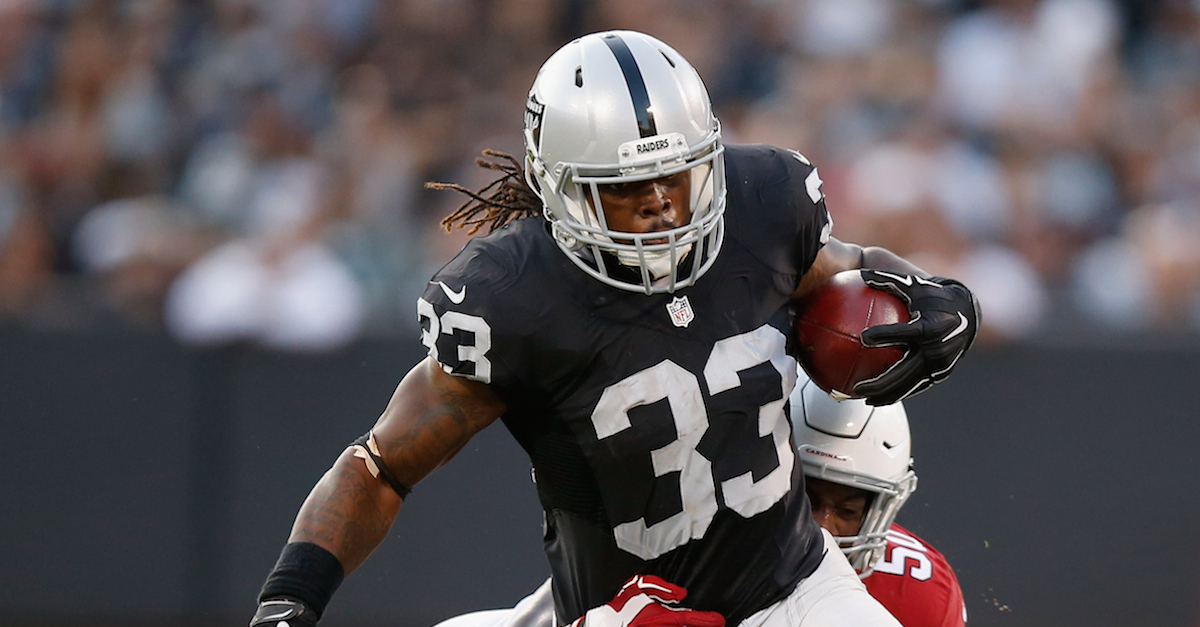 OAKLAND, CA - AUGUST 30: Trent Richardson #33 of the Oakland Raiders is tackled by Gabe Martin #50 of the Arizona Cardinals at O.co Coliseum on August 30, 2015 in Oakland, California. (Photo by Ezra Shaw/Getty Images)
Former Alabama running back Trent Richardson isn't letting his failed career thus far detract him from wanting to be great.
Richardson had a career at Alabama worthy of a shot at the Hall of Fame, but since he's gotten to the NFL, he hasn't found anything close to the same amount of success.
RELATED: Statistically, Trent Richardson is on of the worst RBs in NFL history
Just don't remind him of that.
"This is a good chance of being my last ride when it comes to proving myself in the NFL," Richardson told CSN Mid-Atlantic's Clifton Brown. "I know myself that I'm not done in the NFL, don't want to be done. I got a taste of what that felt like. To tell my kids that their father didn't have a job, it was big for me."
Wanting to be a serviceable back would be admirable, especially considering his tenure in Indianapolis was a failed experiment and he didn't play a single down in 2015. Only Richardson isn't going for "admirable," he's looking for "improbable."
"Putting on a yellow jacket," said Richardson, when speaking on how his story would ultimately end. "People wrote him off, he came back and did some amazing things. He always had the pedigree. He just had to get back to the guy that we know."
Richardson is "only" 25 years old, but has 2,032 yards rushing and 17 touchdowns through 614 career NFL rushing attempts in his four-year career.
For perspective, Alfred Morris, selected 170 picks after Richardson has rushed for 4,713 yards and 29 touchdowns in the same four years.
If Richardson is to achieve his lofty dreams, he'd have to get on the field first.