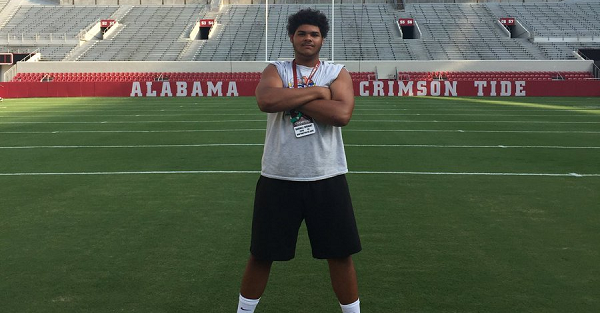 @darnell_5232/Twitter
@darnell_5232/Twitter
Five-star offensive tackle Darnell Wright is going to have many suitors when it comes to his college recruitment as he's a 6-foot-6, 290-pound beast. He spoke to SEC Country about his recruitment and he named Alabama, North Carolina and Ohio State as the schools recruiting him the hardest. He spoke a lot about Alabama in particular.
"I talk to Coach Key regularly," Wright said. "Coach Key is really funny. We're on really good terms. I talk to Coach Saban sometimes. It's cool talking to Coach Saban. I know he's busy because he does a lot for the program. When I talk to him, I try to not act like I'm talking to Jesus. 

"They just tell me that I'm one of their top guys in this class. They're looking forward to getting me back on campus sometime soon."
Wright currently lives in West Virginia, but did spend some time in Dayton, Ohio which is why some people that the Buckeyes are the ones to beat in his recruitment. However, Wright shot down those rumors.
"I wouldn't say they're the top team right now," Wright said. "Ohio State is definitely one of the top teams I'm considering, but I wouldn't say they're pulling away."
Wright is the No. 3 recruit at his position, top recruit in the state and the No. 19 overall recruit in the class of 2019 according to the 247Sports Composite rankings. He also has offers from Virginia Tech, Clemson, Florida and Georgia among others.
Here are some highlights: