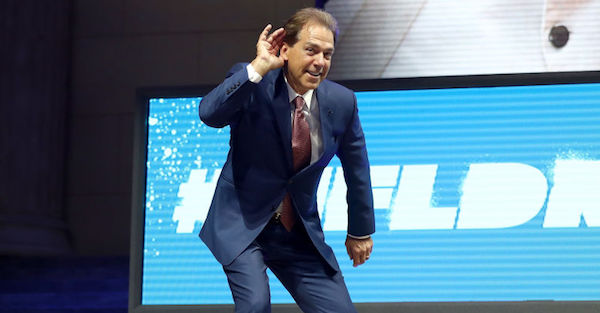 Elsa/Getty Images
PHILADELPHIA, PA - APRIL 27: Nick Saban, head football coach at the University of Alabama, walks on stage prior to the first round of the 2017 NFL Draft at the Philadelphia Museum of Art on April 27, 2017 in Philadelphia, Pennsylvania. (Photo by Elsa/Getty Images)
As the 2017 NFL Draft approached, there was a legitimate possibility that Alabama would sport three picks within the top 10 to 15 selections. Defensive lineman Jonathan Allen, linebacker Reuben Foster and tight end O.J. Howard were seen as blue-chip prospects in terms of play on the field but, while no member of that trio landed quite as high as originally thought, it was still a dominant and record-shattering weekend for the Crimson Tide.
In addition to Allen, Foster and Howard, the Crimson Tide placed four additional players within the first 55 selections, with defensive lineman Dalvin Tomlinson, linebackers Ryan Anderson, cornerback Marlon Humphrey and offensive lineman Cam Robinson flying off the board. That, as noted above, represented an NFL Draft record and a startling nine Alabama players were selected before the end of the third round.
This perhaps speaks to the seemingly wild notion that Paul Finebaum put forth about Alabama underachieving in recent years but, more likely, it simply represents how incredible Nick Saban and company have been at both recruiting and developing talent. There is a reason that Alabama is good every single year and, when the NFL notices to the tune of nine draft picks within three rounds, the talent is undeniable.