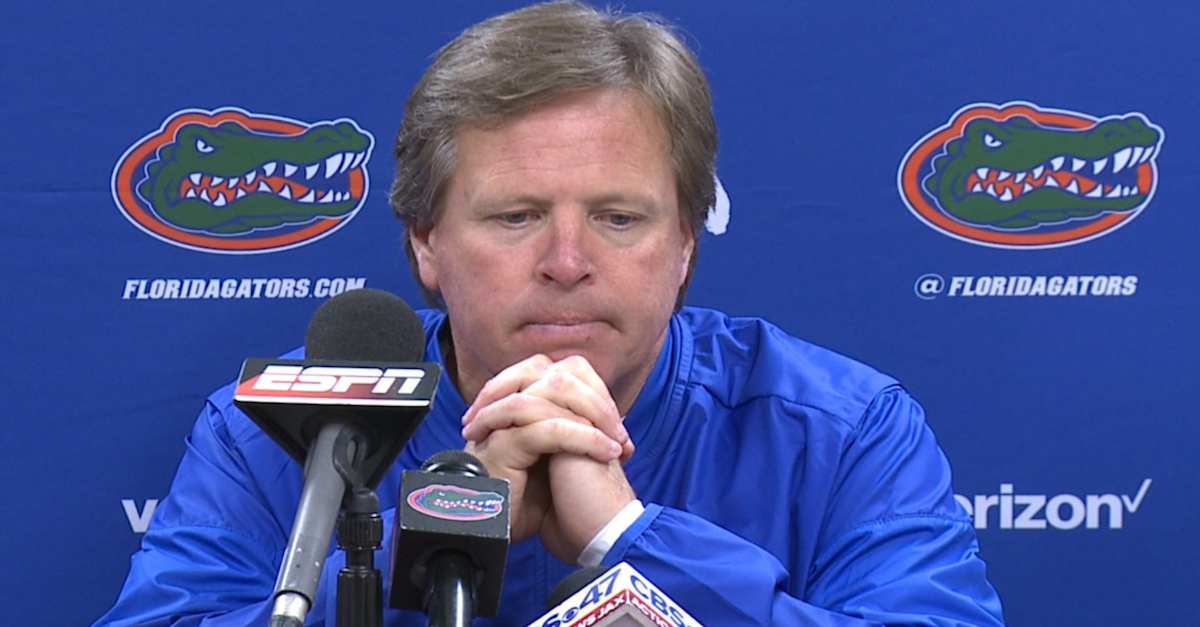 twitter/@GatorVisionTV
Florida head coach and one time Alabama Offensive Coordinator Jim McElwain knows how to give a compliment. The Gators head coach is working to get his team prepared to face off against Alabama in the SEC Championship game Saturday and so far in his preparation one thing has him very worried. Well, one very big thing, Alabama's defense.
"There's only been a couple times so far that I've become violently ill watching them," McElwain said on the media teleconference Sunday according to BamaOnline. 
McElwain continued on, discussing how exactly to try and prepare for the task of going after Alabama's defense.
"I think first thing you do is don't show them the film. Those guys are pretty good," McElwain said. "But no, I think the thing you point out is really how close you are from a consistency standpoint. We had our opportunities last couple games, yet the mindset of finishing is something we have to do.

"Obviously with these guys that we're playing, I think the thing that really stands out is how short the explosive play reel is when you look at it. They don't give a lot of big plays up. You got to go earn it. You know what, that's what we're going to set out and do."

"Obviously the film that we've been able to watch, you know, they seem to me that they might actually even have more overall team speed," McElwain said. "The depth at the D-line obviously stands out. But really the overall team speed is something that really shows up.

"That's one thing that they will always have, is great defenses. Obviously Jeremy (Pruitt) has come in and built on what Kirby (Smart) had done, adapted to the personnel they have, doing what Coach expects. They're sure playing at a high level."
Alabama and Florida kickoff for the SEC Championship Saturday at 4pm.