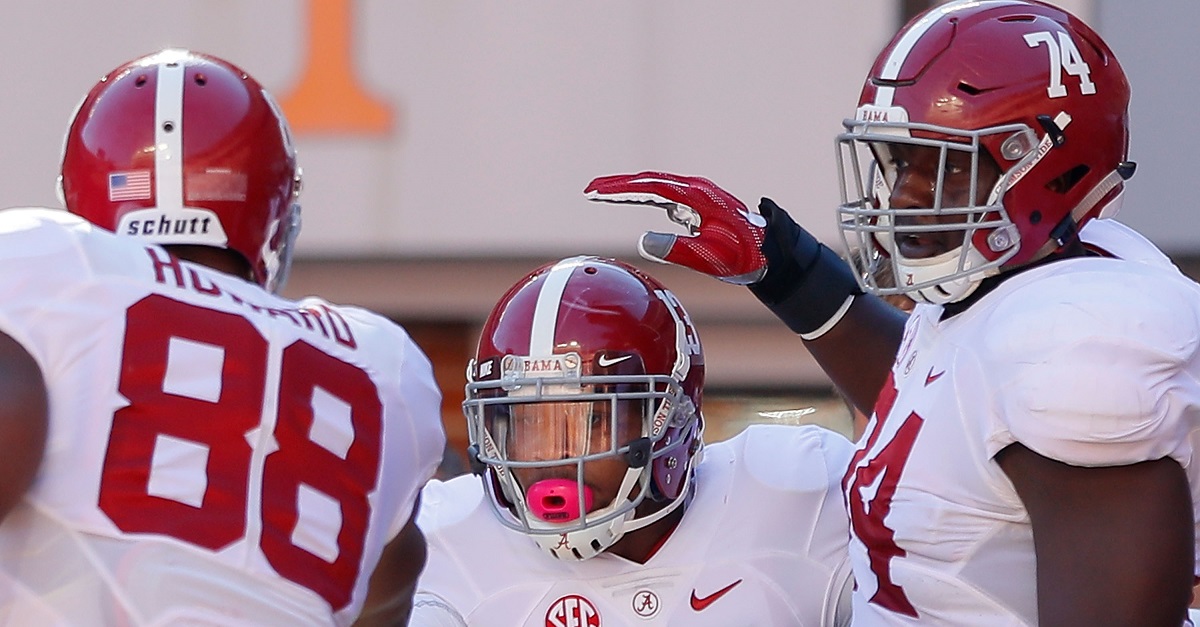 Kevin C. Cox/Getty Images
KNOXVILLE, TN - OCTOBER 15: ArDarius Stewart #13 of the Alabama Crimson Tide reacts after rushing for a touchdown against the Tennessee Volunteers with O.J. Howard #88 and Cam Robinson #74 at Neyland Stadium on October 15, 2016 in Knoxville, Tennessee. (Photo by Kevin C. Cox/Getty Images)
Former NFL scout and current NFL.com analyst Bucky Brooks has had a weekly post on special players at each position heading into the NFL Draft. This week he took his shot at Alabama tight end O.J. Howard and he is super high on this kid as well as several AFC personnel. Those guys said that he is "special", "right now player" and "a man among boys at his position."
RELATED: ESPN's newest mock draft has an absurd name going in the top 5
Brooks gave his own assessment and he gave a pretty glowing review as well:
Howard is the most complete tight end prospect to enter the league in the past decade. Now, I know that's quite a statement with the likes of Rob Gronkowski, Jimmy Graham, Travis Kelce and Jordan Reed sparking a revolution at the position, but they didn't enter the league with polished games that led evaluators to believe they were "solar system" players at the position.
Brooks went on to compare him to Greg Olsen as both can stretch field vertically and are great blockers when it's needed. He also said that Howard can be plugged into any offense with no problem, which makes his draft status that much more interesting. He sees him going anywhere from the fringe of the top 10 to last pick in the first round (to the Saints). We'll find out more when the Draft comes around in April.
[h/t NFL.com]