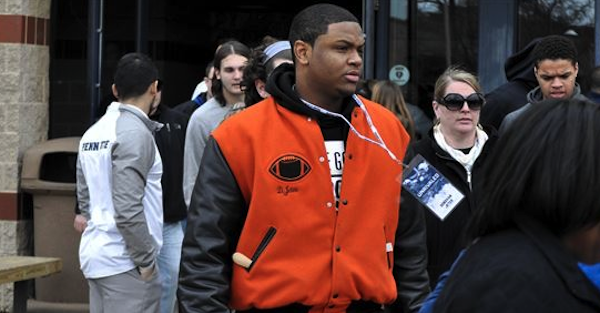 Sean Fitz/247Sports
When four-star 2017 defensive end Donovan Jeter announced his top five in late July, Notre Dame wasn't in the mix. However, the 6-foot-4, 250-pound prospect broke news of his college choice on Monday, and Jeter pulled a surprise in announcing that he will be residing in South Bend for the next few years.
Jeter visited Notre Dame for this weekend's game against Michigan State, and while the Fighting Irish came up short on the scoreboard, that was not the case in the recruiting game. In fact, Brian Kelly and his staff out-dueled the likes of Ohio State, Alabama, Tennessee, Michigan, Georgia and Stanford in order to secure this commitment, and it is clear that the Irish came a long way in a short period of time.
247Sports brings word that Jeter was not supposed to announce his commitment until late October, but whatever transpired in South Bend this weekend was enough to flip the script. At this point, Jeter ranks as the No. 8 strong-side defensive end in this particular class, but with pursuits from some of the top programs in the country and encouraging play on the field, that ranking could change for the better in th near future.
There is still plenty of time for an adjustment, but it looks like Donovan Jeter will be wearing blue and gold at the college level.