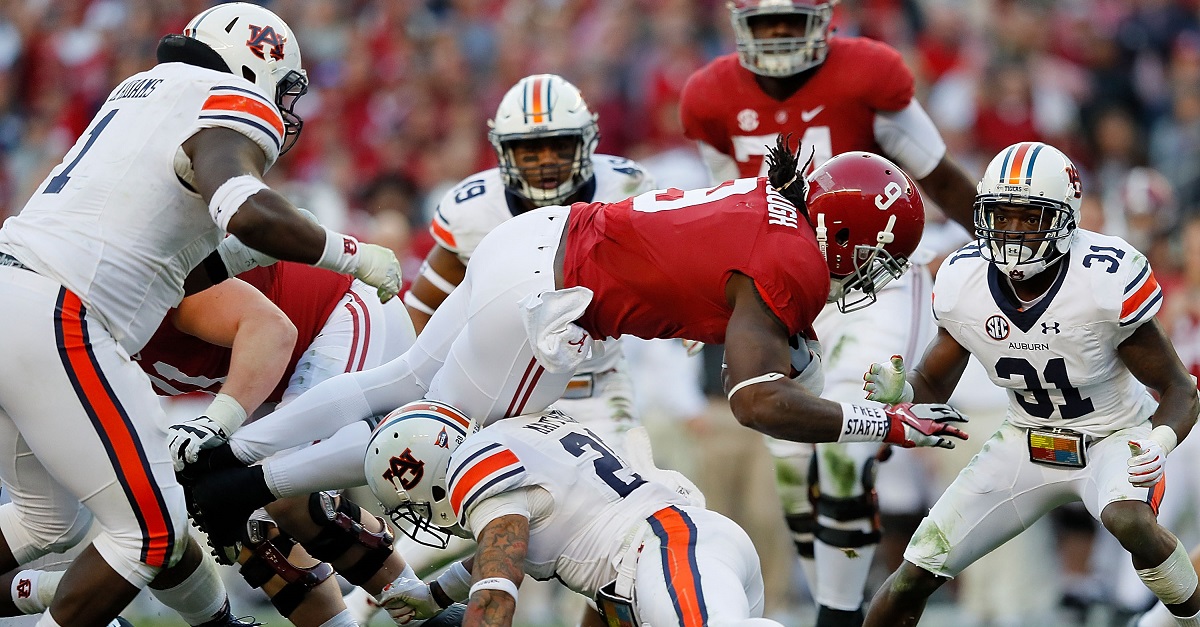 Kevin C. Cox/Getty Images
TUSCALOOSA, AL - NOVEMBER 26: Bo Scarbrough #9 of the Alabama Crimson Tide dives for a first down against Tray Matthews #28 of the Auburn Tigers at Bryant-Denny Stadium on November 26, 2016 in Tuscaloosa, Alabama. (Photo by Kevin C. Cox/Getty Images)
Alabama pummeled Auburn in the Iron Bowl this season 30-12 and was dominant in every phase of the game. That's what the Crimson Tide has done to everyone this year, but it sounds like they made one team beg for mercy during the game.
RELATED: 'Iron Bowl Blind Date' is hilarious example of Alabama/Auburn rivalry
According to Duane Rankin of the Montgomery Advertiser, Alabama tight end O.J. Howard claims the Crimson Tide got rival Auburn to admit it was beaten into submission:
?In the Iron Bowl, it?s a field goal and a lot of people take off on extra point. Our guys, our o-linemen like Cam (Robinson), those guys are coming off hard every play. They?ll say, ?Ah man, chill bruh.? Stuff like that. That?s no disrespect to those guys, but we can?t chill because we?re going to get in trouble with our coach. We?ve got to go hard man.

I think when you get to that point in the game when the team starts saying that, you?ve won the game when you see them quit.?
Howard went on to say that his team forced several others to the brink of demoralization so that they basically quit:
?When they start telling you, ?Hey man, take it easy,? and all that, it?s over with. You?ve? won. It?s game. They don?t want to play anymore. They?re trying to talk about anything but football and we?re not trying to hear that. We?re trying to finish the game. When you make a team do that, that?s when you know you?ve got them beat.?
Alabama will surely be hoping it can get the Washington Huskies to tap out when they play on Saturday for a chance to go to the National Championship Game.
[h/t Saturday Down South]