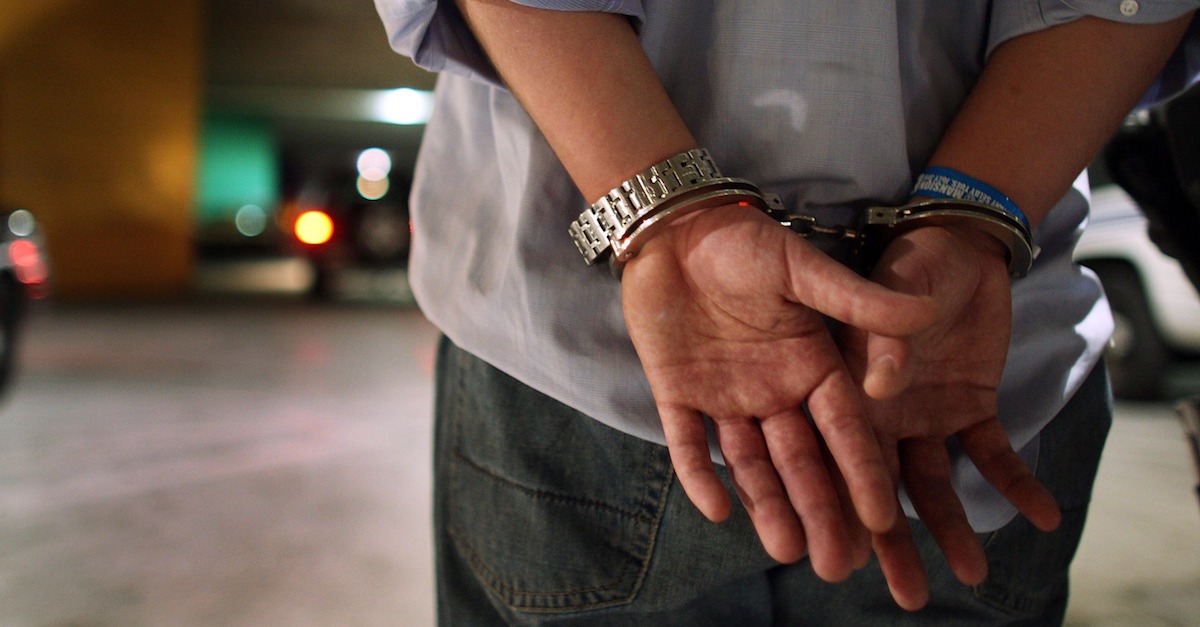 Joe Raedle/Getty Images
MIAMI - JULY 04: A driver who failed a field sobriety test at a DUI traffic checkpoint stands in handcuffs waiting to be processed June 4, 2007 in Miami, Florida. Several law enforcement agencies were conducting the checkpoint and conducting saturation patrols to help save lives during the 4th of July holiday. The National Safety Council has rated the July 4th holdiay as one of most lethal holidays for drivers, with alcohol factoring into nearly half of all motor vehicle deaths. (Photo by Joe Raedle/Getty Images)
A suspect is on the loose down in Alabama after reportedly shooting a man based on the college football rivalry between Alabama and Auburn.
Yes, you read that right. There was a shooting over the Iron Bowl, and the game is still well over a week away.
Here's the report from AL.com, which cites police response to a shooting at a motel:
?Mobile police responded to a call concerning a person who was shot at a motel on East I-65 Service Road South at 7:53 p.m. The victim told authorities he was arguing with another man when the shooter asked him which football team is better. The shooter became angry, pulled out a firearm and shot the victim in the thigh before fleeing the scene, police said.
Police said the victim's injuries are not life-threatening. A suspect has not been arrested, but they will be charged with second-degree assault when captured.?
Frankly, what's the most troublesome thing about this report? Is it the fact that the suspect is still at large somewhere, raging about the Alabama/Auburn game, or that he actually shot someone over a football game?
Granted, it's going to be a huge contest between the Crimson Tide and Tigers. For all intents and purposes, the Iron Bowl will be played for the chance to represent the SEC West in the SEC Championship game, and even though Alabama is currently ranked No. 1 nationally and undefeated and Auburn is ranked No. 6 at 8-2, this projects to be a tremendous contest.
Alabama is Alabama, there's no doubting that, but Auburn is on a roll right now having just beat the former No. 1 team in the land, Georgia, 40-17. A win over Alabama would give the Tide and Tigers the same SEC record, which means Auburn would advance to the title game with a win on the 25th.
So yeah, it's a huge game in a huge rivalry.
Worth shooting somebody over, though? That's just about as crazy as poisoning a tree.