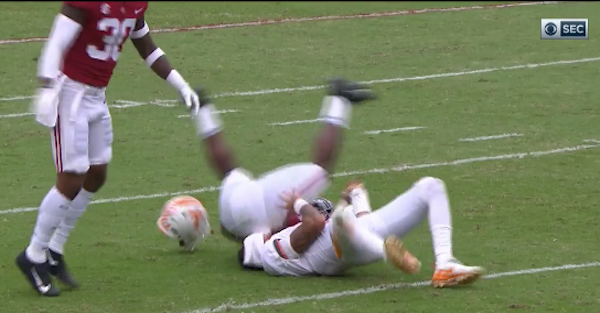 Clippit screenshot
Unbeaten Alabama is blitzing through Tennessee to the tune of a 21-0 drubbing at the half at Bryant-Denny Stadium.
The Volunteers did just about anything they could to get some momentum, which includes trotting out quarterback Jarrett Guarantano on a 3rd-and-19 from the 47 yard-line for an attempted hail mary with two seconds remaining in the half.
That…did not go well.
Guarantano has completed 7 of 11 passes for 38 yards, while the Vols have rushed for 28 yards as a team.
Alabama has combined for over 250 yards of offense already, with the running back duo of Damien Harris and Bo Scarbrough scoring all three touchdowns thus far.
This one could get uglier real quick.