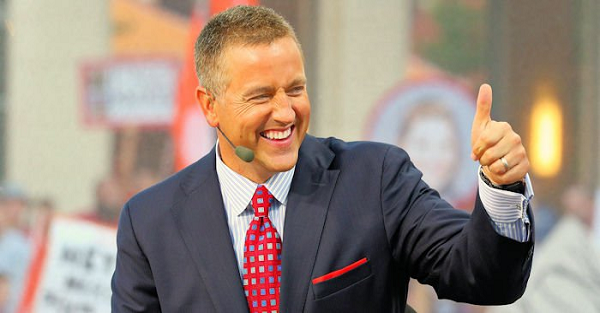 @ClemsonTigerNet/Twitter
@ClemsonTigerNet/Twitter
After Ohio State defeated Wisconsin to win the Big 10 championship, many thought the College Football Playoff Committee would jump the Buckeyes over Alabama for the fourth spot in the playoffs.
However, Alabama moved to No. 4 despite not winning the SEC, and ESPN college football analyst Kirk Herbstreit said there was one major reason why the Tide were taken over the Buckeyes.
"The losses matter," Herbstreit said. "To lose the way [Ohio State] lost [to Iowa], it sent a message that the committee couldn't forget."
Ohio State lost to Iowa 55-24, and that loss on top of the 15-point home loss to Oklahoma tilted the scales in Alabama's favor.
Alabama doesn't have the same caliber wins that Ohio State has, but the Tide's lone loss was a 12-point loss at Auburn.
Related: Kirk Herbstreit makes a big statement in his argument between Ohio State and Alabama
Herbstreit also said the committee proved that they don't have any agendas, and they are concerned with simply putting the four teams in the playoffs who are the best and most deserving.
"The committee just made a statement," he said. "They are not into appeasing people's agendas. They are going to do what they think is right regardless if you agree or disagree."
Alabama will meet Clemson in the Sugar Bowl in the semifinals for a rematch of the last two national championship games. The winner will face the winner of Oklahoma and Georgia.
This is the first time the Big 10 has been left out of the playoffs. The conference hasn't scored a point in the playoffs since Ohio State won the championship in 2014.