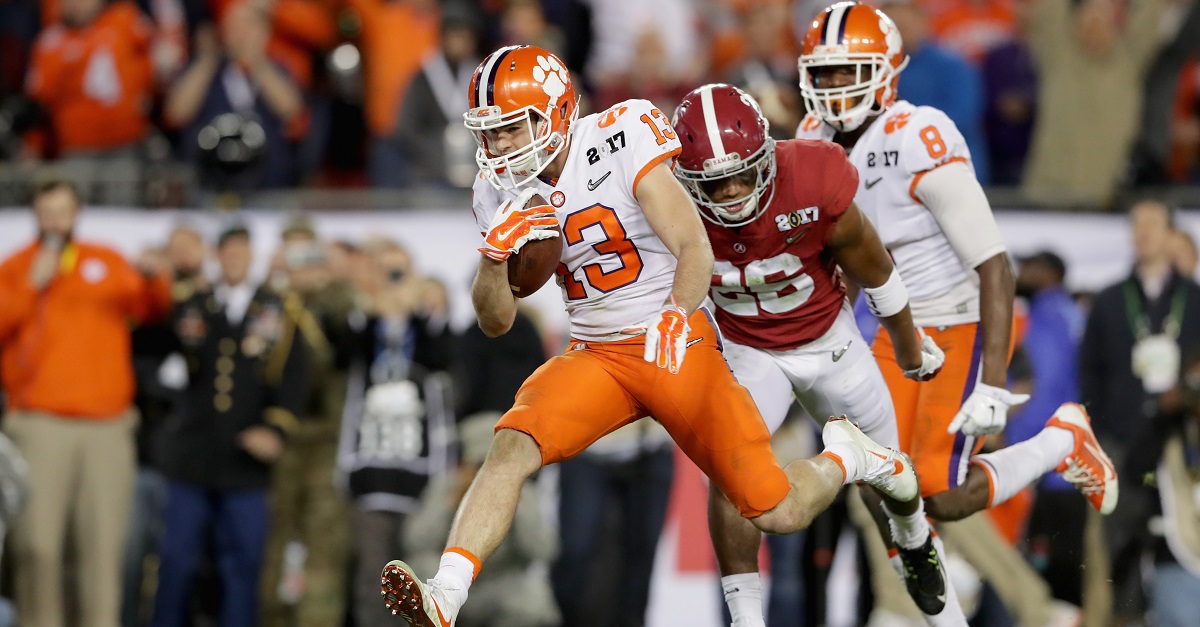 Streeter Lecka/Getty Images
TAMPA, FL - JANUARY 09: Hunter Renfrow #13 of the Clemson Tigers scores a touchdown against the Alabama Crimson Tide during the 2017 College Football Playoff National Championship Game at Raymond James Stadium on January 9, 2017 in Tampa, Florida. (Photo by Streeter Lecka/Getty Images)
Clemson and Alabama will face each other for the third time in as many years when they meet up in the Sugar Bowl. The only difference is that this time the game will decide who goes to the national title game rather than deciding who the actual National Champion will be.
During his own award show, ESPN GameDay host Kirk Herbstreit detailed exactly what it will take for Alabama to beat a seemingly unstoppable Clemson offense. Here's what he said via 247Sports:
"They've really changed their approach this year. Kelly Bryant comes in, more of a runner and they're offense became a little different. The quarterback was a real threat (as a runner). If I'm Alabama, I'm Nick Saban, I am determined to stop that quarterback from running.

"We're going to load the line of scrimmage and leave our corners on islands. Can Bryant make them pay? Overall, at the end of it, we're going to say, "I didn't know Kelly could throw it like that …" if Clemson wins the game."
Clemson's offense is averaging almost 450 yards a game and about 35 points a game. That's thanks to an excellent balance in the running and passing games. Bryant of course is a dual-threat quarterback and those have infamously been Alabama's weakness over the last few years as highlighted by Chad Kelly, Dak Prescott, Deshaun Watson and now possibly Kelly Bryant.
Bryant is averaging 206 passing yards a game to go with about 50 rushing yards a game. Despite all that, Alabama is still a 2.5-point favorite entering the game.