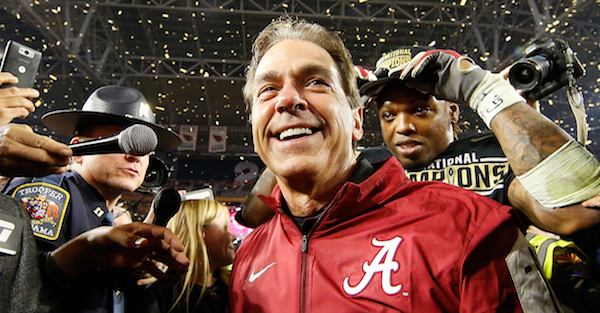 GLENDALE, AZ - JANUARY 11: Head coach Nick Saban of the Alabama Crimson Tide celebrates after defeating the Clemson Tigers in the 2016 College Football Playoff National Championship Game at University of Phoenix Stadium on January 11, 2016 in Glendale, Arizona. The Crimson Tide defeated the Tigers with a score of 45 to 40. (Photo by Christian Petersen/Getty Images)
College football, unlike a number of professional sports across the globe, is one sport that does not have a formal commissioner. Given the uproar and differing opinions with satellite camps, recruiting, as well as scheduling conflicts that seem to badger the sport each and every year, why wouldn't you want a commissioner? The idea of having a college football commissioner was first brought up by ESPN's Adam Rittenberg last week, and he proposed that none other than Alabama's Nick Saban would be the perfect candidate for the job.
With five national titles, an unprecedented run in Tuscaloosa and him being one of the most respected — as well as hated — names in college football, Saban would be a popular choice. In an appearance on the Paul Finebaum show, the host floated the idea of being college football's commissioner to the head coach, and he actually said he'd be open to the idea.
I don't know about you all, but I would love to see a CFB commissioner election play out. It appears Saban isn't all that opposed to the idea. What do we think, college football fans?