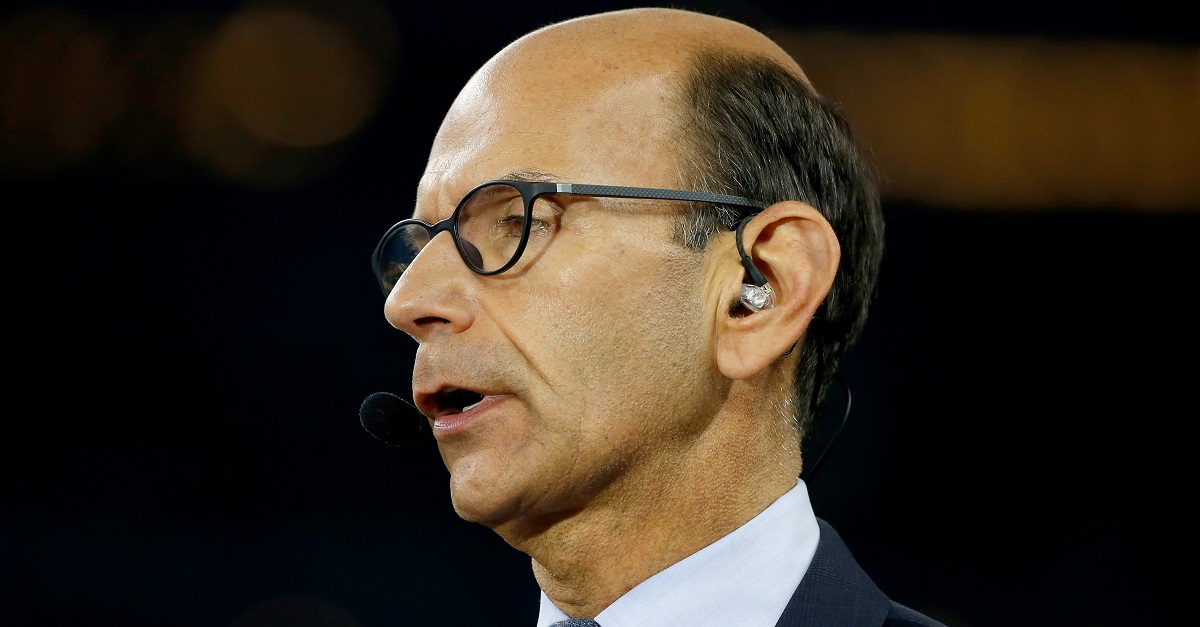 Scott Halleran/Getty Images
Scott Halleran/Getty Images
The initial College Football Playoff rankings for the 2017 season will be unveiled this week, and while everyone is confident Alabama and Georgia will be the top two teams, the other two spots are a mystery.
Several teams can make a case to be in the four-team field as of now, including Notre Dame, Oklahoma, Ohio State, Clemson, Penn State, Washington and TCU. ESPN's Paul Finebaum gave his top four on SportsCenter, and his two choices for one-loss teams weren't surprising after this past Saturday's games.
Related: Former ESPN analyst Danny Kanell has the most ridiculous set of college football rankings
Brad Crawford of 247Sports transcribed Finebaum's explanation from SportsCenter.
"Last one was difficult and you could make a case for a couple schools, but based on what I saw from Ohio State, they're ready to play," he said. "I've defended Alabama's schedule, but after Friday night at Boston College, I can no longer say beating Florida State was (quality) … it just doesn't work.

"The reason the committee is ranking Alabama No. 1 is because they're dominating everyone every week. They don't have a weakness and that's why the committee will have them there."
It's hard to argue with Finebaum's rationale. After Alabama and Georgia, Notre Dame arguably has the best resume of any one-loss team. Their lone loss was a one-point loss to Georgia in Week 2, and they've blown out USC and N.C. State in recent weeks.
Ohio State's thrilling 39-38 comeback win over Penn State was among the best wins by any team in the country this year, but that's the only good win on their resume. Plus, they lost at home by double digits to Oklahoma, who also has one loss. The Sooners lost to a suddenly resurgent Iowa State team, and that doesn't look like a bad loss after the Cyclones defeated TCU. So, Oklahoma fans would certainly have room to gripe if the Buckeyes are ahead of them in the polls.
Clemson has two great wins over Auburn and Virginia Tech, but the win over Louisville doesn't look as impressive now, and they also lost to an average Syracuse team. Quarterback Kelly Bryant was injured, and the Tigers will still likely be in the playoffs if he gets healthy and they win out.
Washington and TCU don't have as much of an argument, and undefeated teams such as Miami and Wisconsin have played weak schedules and haven't dominated opponents.
There are still over a month's worth of games left, so things will work themselves out, but the debate over one-loss resumes is certainly entertaining at this point in the season.
(h/t The Spun)