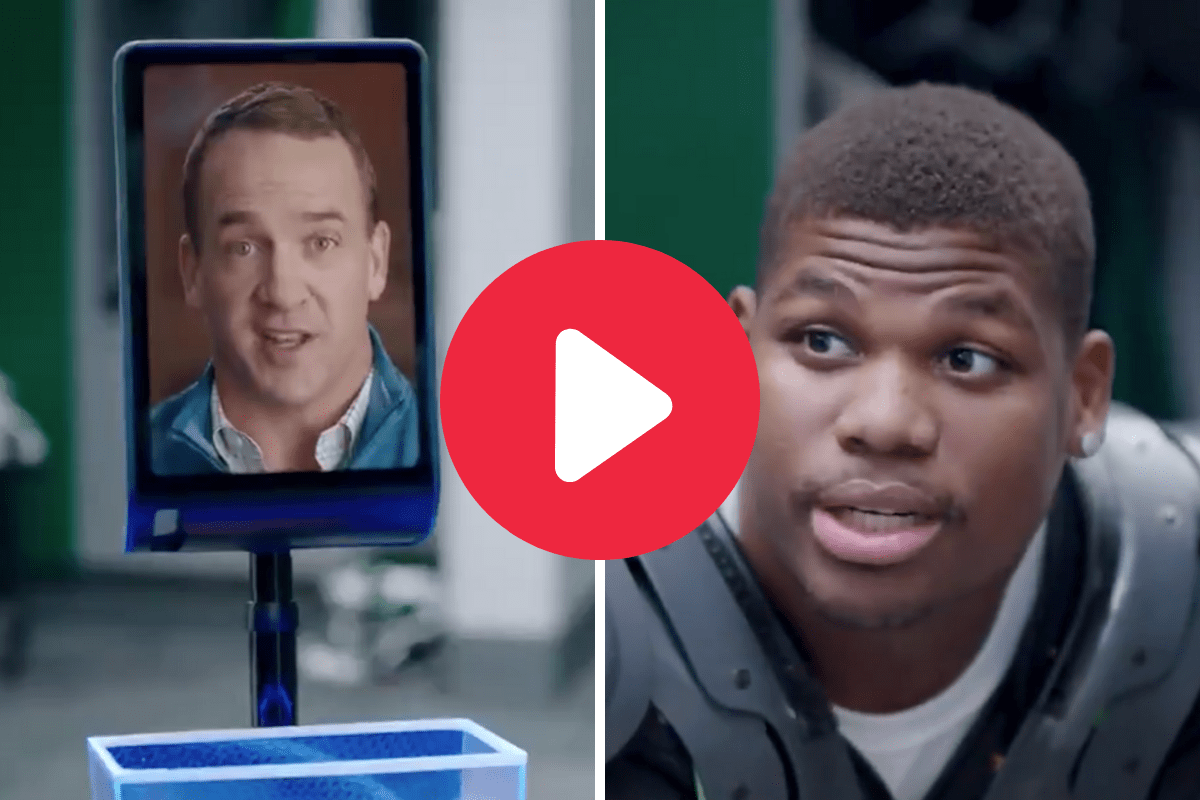 Screenshot from Twitter
Football's worst kept secret is that the NFL is littered with former Alabama Crimson Tide players. From Julio Jones to Mark Ingram to Tua Tagovailoa, nearly 60 of head coach Nick Saban's college football products landed on an NFL roster for the 2020 season.
New York Jets defensive lineman Quinnen Williams is well aware of that fact. It's why he and many of his former University of Alabama teammates have partaken in a timeless pro football tradition: jersey swaps. The only problem is this is usually done after a game, when a uniform is covered in dirt and grass stains and stinks like rotten cheese.
Williams and NFL legend Peyton Manning got together to solve this issue in Tide's recent hilarious commercial featuring the two of them.
Quinnen Williams-Peyton Manning Tide Commercial
RELATED: Alabama Player Nails Nick Saban Impression, And His Teammate Can?t Stop Laughing
Playing the role of jersey swap facilitator, "robot Peyton Manning" approaches the Jets defensive tackle about executing the very first clean jersey swap.
"Can I swap jerseys with Tua?" Williams asks first.

"Sure, Tide will clean any jersey," Manning responds.

"What about Derrick? Reggie? Minkah? Jerry? Henry! Julio?" Williams says.

"Q, that's a lot of jerseys," Manning quips.

"But you still got AJ, JK, Ronnie, Payne…" Williams continues.
Robot Peyton Manning, who by the way played for Tennessee, then rolls away after not wanting to hear anymore names.
The funny thing is Quinnen Williams could have listed way more stars than Derrick Henry, Reggie Ragland, Minkah Fitzpatrick, Jerry Jeudy, Henry Ruggs, and Julio Jones. You can't leave out dudes like Amari Cooper, Kenyan Drake and Josh Jacobs.
Williams may have been the best of all of them coming out of the Southeastern Conference. The dominant d-lineman became a Unanimous All-American in 2018 before the Jets selected him with the third overall pick in the 2019 NFL Draft, marking the highest Alabama football player selection since the Cleveland Browns took Trent Richardson third-overall in 2012.
The 303-pound Williams already has half a sack more than his 2.5-sack total his rookie season, and he's done so in just eight games during a season plagued by the COVID-19 outbreak. The Jets may be the worst team in the NFL at 0-8, but at least players like Quinnen Williams are keeping in good spirits in commercials like this one.