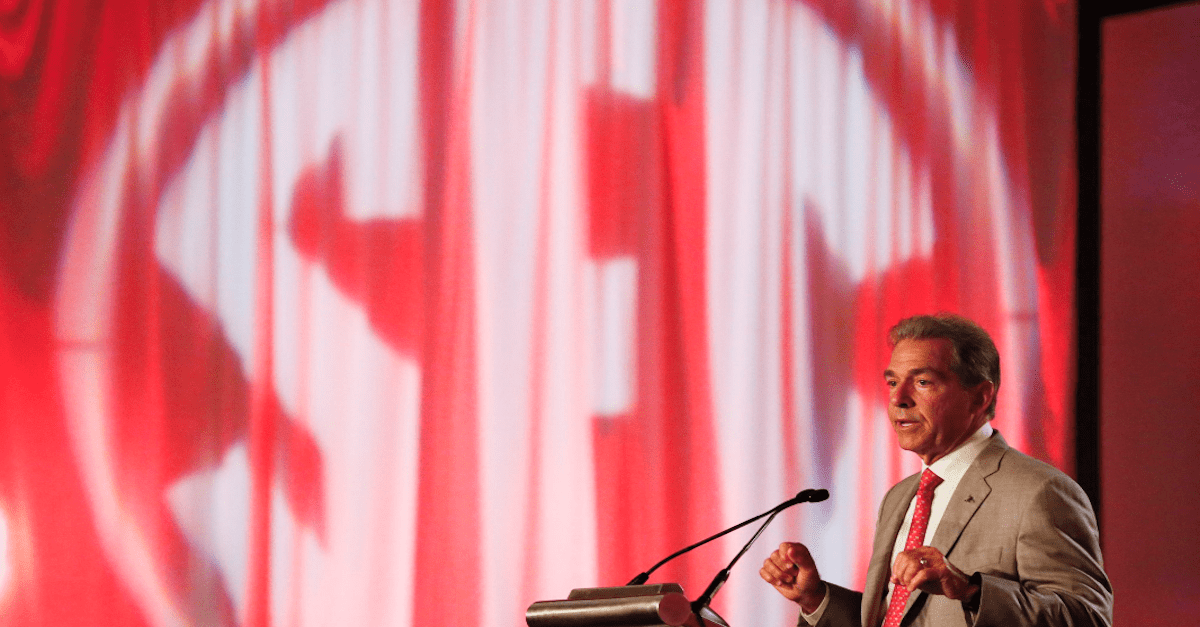 twitter
Gridiron Now recently asked a bunch of SEC coaches their thoughts on every SEC team with the promise of anonymity and when anonymous coaches like to talk. In regards to Alabama SEC coaches were much more positive on the Tide than you might have thought considering all of the personnel lose by the Tide. Coaches were especially high on Alabama's defensive fron and running backs.
These are all comments from SEC coaches made to Gridiron Now,
"Alabama will be better than people think."

"If they don't get hurt up front on defense, I'm not sure they won't be better on defense with (Jonathan) Allen and (Dalvin) Tomlinson and (Da'Shawn) Hand," he said. "They won't have as much depth, but they will have as much talent among the starters.

"They will be better on the offensive line, not as good at running back (without Derrick Henry) but really good with Damien Harris and Bo Scarbrough. They'll be better at wide receiver. And (offensive coordinator) Lane Kiffin – he'll find something the quarterback can do and he'll do it. The quarterback will be efficient.

"They've got players. They've recruited so well, they've got guys stockpiled. They can be as good as they were a year ago – they can be scary."

One coach said 'Bama will miss Henry but that he likes the returning backs.

"It's like saying you're at the Goodyear plant and your tire wore out," the coach said. "Just get another one."

One coach is high on Scarbrough: "Bo is as good as Derrick. At that time in their careers, Bo was a lot better. He will be a more natural, instinctive runner and faster. Only problem with Bo is he's not great in pass protection."

One coach called Reuben Foster "the best linebacker in the country. He's a freak."

Another coach said Jeremy Pruitt taking over at defensive coordinator for Kirby Smart "is a push."

One coach had high praise for Kiffin.

"What makes Lane so valuable is he's taken first-time quarterbacks and won the SEC twice and a national championship," the coach said. "If Alabama wins the West and goes to Atlanta, Lane might get a chance to get a head coaching job. He's without a doubt the MVP of assistants in the SEC. He's the best play-caller Nick has had."
It's clear that SEC coaches are still convinced they are chasing the Tide. The question is, is this the year they catch up? It doesn't sound like it.
You can read what coaches had to say about every SEC team here, some of the comments were nowhere near as praiseworthy as the ones above.