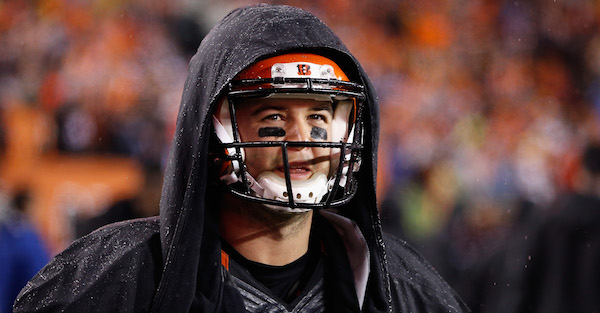 Joe Robbins/Getty Images
CINCINNATI, OH - JANUARY 09: AJ McCarron #5 of the Cincinnati Bengals reacts on the sideline in the fourth quarter against the Pittsburgh Steelers during the AFC Wild Card Playoff game at Paul Brown Stadium on January 9, 2016 in Cincinnati, Ohio. (Photo by Joe Robbins/Getty Images)
Andy Dalton isn't an uber-elite NFL quarterback but, even with his faults, the Cincinnati Bengals have "their guy" under the center for the foreseeable future. With that in mind, the club could look to capitalize on sky-high values when it comes to attractive back-ups and that means former Alabama signal-caller A.J. McCarron could be on the market.
Cleveland.com dealt with the possibility of McCarron being moved through the prism of the quarterback-less Cleveland Browns and, while saying the Bengals "would likely want at least a second-round pick" in exchange for McCarron, the piece quotes Bengals director of personnel Duke Tobin on the possibility.
"We'll listen to whatever anyone is thinking. We're not actively looking to diminish our football team by trading AJ McCarron and that diminishes our football team. It has to be something we feel is valuable enough to warrant doing that. What it is, I don't know. Who it is to, I don't know.

"It's not ideal to trade guys within your division, particularly at that position. But we listen and if something comes up we'll certainly announce it to all you guys."
While McCarron is an interesting possibility, the report indicates that he would basically be third in line behind New England's Jimmy Garoppolo and Buffalo's Tyrod Taylor in the pecking order. Still, McCarron could also be an attractive alternative to other QB-challenged teams around the league and if only one thinks he's a long-time starter, the Bengals could attract a second-round price for his services.
It will be interesting to see what happens when this year's edition of "QB musical chairs" ends but it might involve A.J. McCarron leaving Cincinnati.