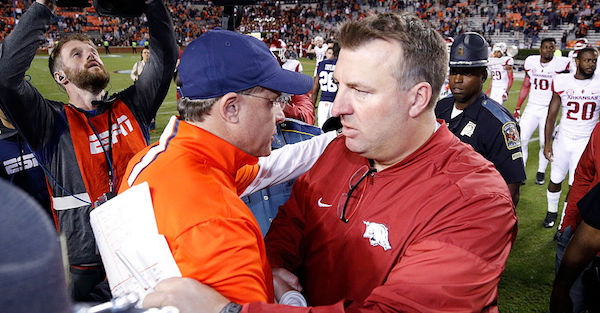 Joe Robbins/Getty Images
AUBURN, AL - OCTOBER 22: Head coach Bret Bielema of the Arkansas Razorbacks meets with head coach Gus Malzahn of the Auburn Tigers after the game at Jordan-Hare Stadium on October 22, 2016 in Auburn, Alabama. Auburn defeated Arkansas 56-3. (Photo by Joe Robbins/Getty Images)
The Bret Bielema era in Arkansas hasn't been as successful as the Bobby Petrino era, but Arkansas athletic direcot Jeff Long is adamant that Bielema isn't on the hot seat for the upcoming 2017-18 college football season.
SEC Country's Jason Kersey spoke with Long about whether or not Bielema was on the "hot seat", and he didn't dodge the question or give an answer similar to one Texas A&M's athletic director gave about their head coach Kevin Sumlin.
Long told Kersey that "Bret is the leader of our program" to end any doubt as to whether or not the Razorbacks could be making a change sometime soon.
The Arkansas AD elaborated more on why he believes the program is moving in the right direction, along with pointing out something very important: Arkansas plays in the toughest division in toughest conference.
Playing in the same division as Alabama is already a monumental challenge, but having to deal with Auburn, LSU, Texas A&M, etc. every year makes building a consistent title contender at Arkansas very difficult. Bielema may not be winning at an elite level yet, but you can see why Long is being patient and a scenario where the Hogs turn a corner sooner rather than later. (Having arguably the best quarterback in the conference in Austin Allen should really help, too.)
Entering his fifth season at Arkansas, Bielema has compiled a dubious 25-26 record in four seasons.