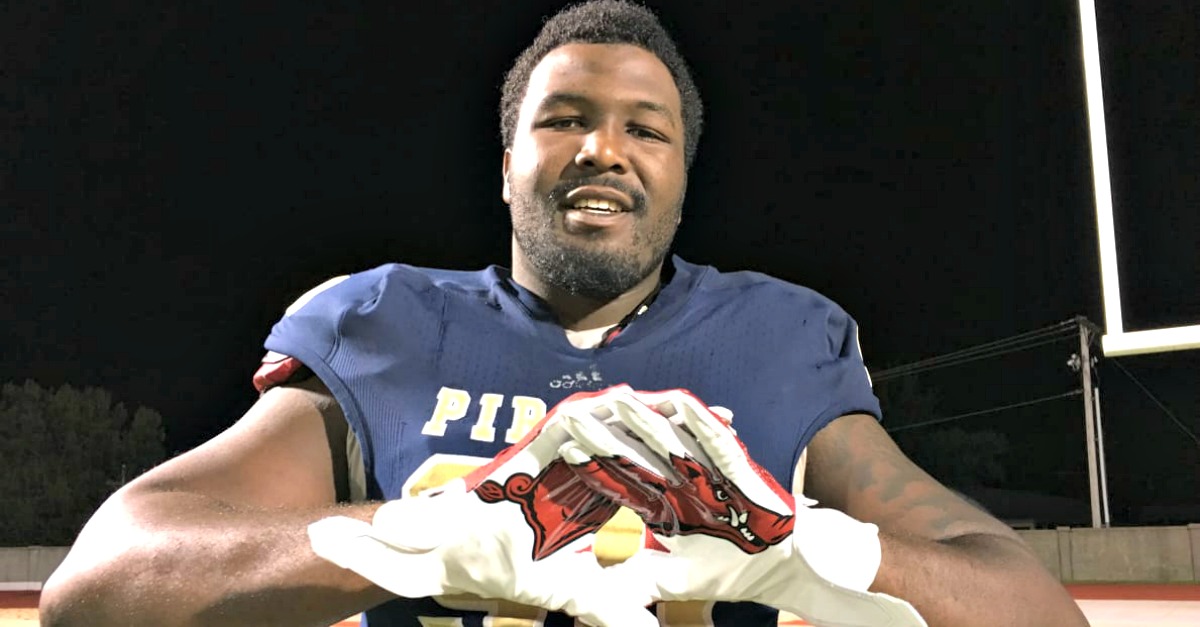 SEC Country Twitter
Defensive tackle Emmit Gooden has made a college choice, and it's a bit of a surprise.
The 6'4″, 310-pound defensive tackle was reportedly being recruited by Nick Saban, and that led the Crimson Tide to become the leader in his recruitment. But the No. 8 overall JUCO recruit in the country decided to go to another SEC school when he selected Arkansas.
He also had offers from Louisville, Oklahoma and Missouri among others.
Gooden also added a message on Twitter:
It's a little hard to read, so here's the complete text:
"Giving all praises and honor to the man upstairs. It's been a long journey to be in the position I'm in today and from the bottom of my heart I want to thank everyone fir not giving up on me. I also want to thank the man upstairs for making me into a young man and didn't fold under the JUCO pressure. This day has been in the making for the longest and I feel like I'm making the best decision for me. With that being said I will be committing to the University of Arkansas. Can't wait to get to Fayetteville soon and causing damage with the brudda Sosa until then …"
RELATED: Emmit Gooden reportedly has new leader in his recruitment
Sosa refers to his friend McTelvin ?Sosa? Agim, who also plays on Arkansas' defensive line.
Gooden was solid recruit coming out of high school as he was rated a four-star by 247Sports Composite Rankings in the class of 2016. However, his grades weren't good enough to qualify right away so he went to Independence Community College in Kansas.
Here are some of his JUCO highlights: