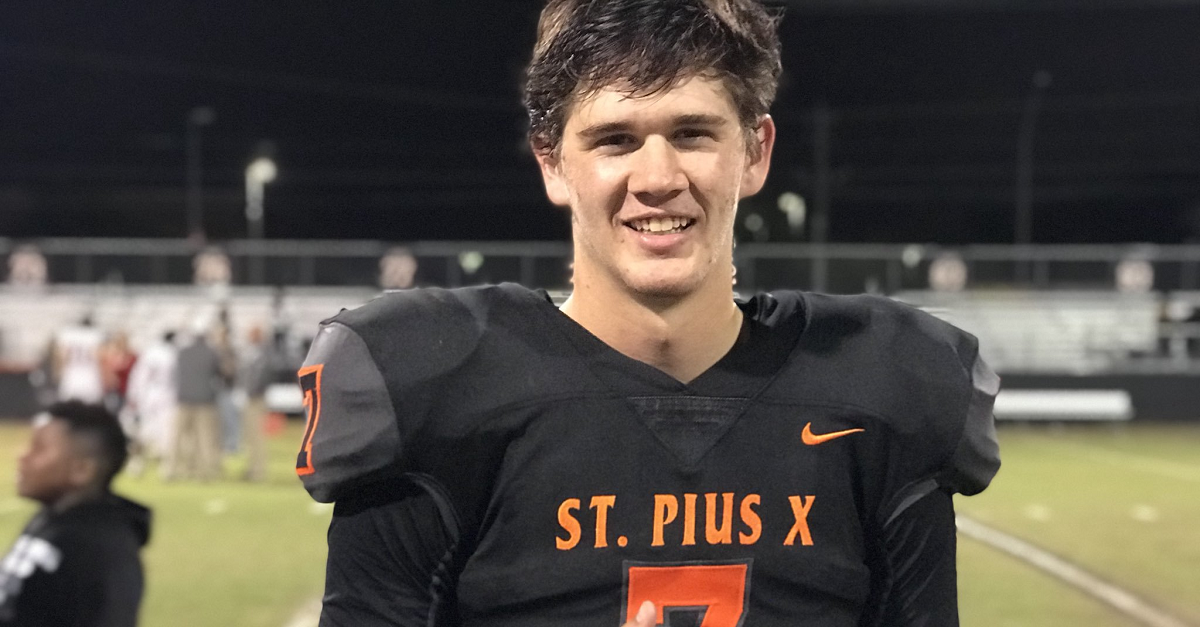 @R_Brauninger/Twitter
@R_Brauninger/Twitter
Texas A&M commit Grant Gunnell is the No. 2 pro passer in the class of 2019 according to the 247Sports Composite rankings and has been committed to the Aggies since June. However, it is sounding like the Aggies may have some competition for the current high school junior. Whole Hogs Sports is reporting that Gunnell is going to "re-evaluate" Arkansas after the Razorbacks hired Chad Morris.
Morris has extensive ties to Texas recruiting — where Gunnell plays his high school football — so this could be a huge coup for Arkansas if they can pull of the flip before Gunnell signs in 2019 (or December of 2018 if he decides to sign early). Morris is coming from SMU and was the offensive coordinator for Clemson before that.
Gunnell is a 6-foot-6, 212-pound quarterback out of Houston who plays for St. Pius X. The 247Sports Composite rankings have him as the No. 37 recruit overall in the class and the No. 7 recruit out of Texas. He currently has over 30 offers including some from Baylor, Alabama, Florida State, Georgia and LSU among plenty of others.
He has completed 336 of 471 passes for 4,433 yards and 56 touchdowns while throwing only 6 interceptions this season and connected on 271 of 387 passes for 4,973 yards and 65 touchdowns while having 11 interceptions as a sophomore.