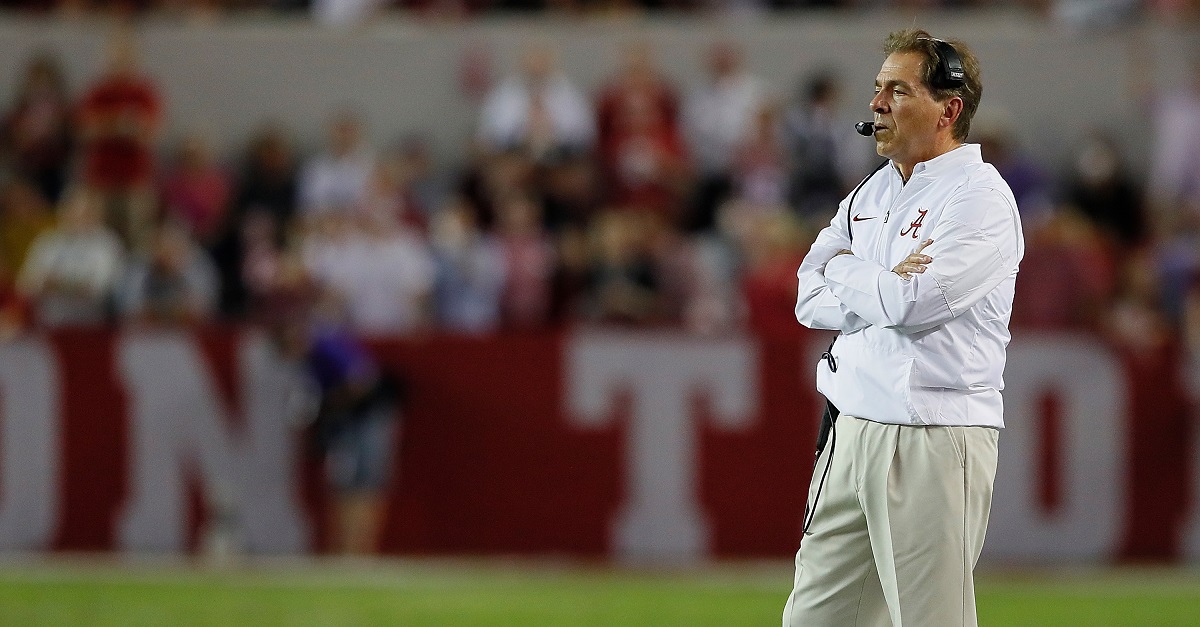 Kevin C. Cox/Getty Images
TUSCALOOSA, AL - NOVEMBER 04: Head coach Nick Saban of the Alabama Crimson Tide looks on during the final minutes of their 24-10 win over the LSU Tigers at Bryant-Denny Stadium on November 4, 2017 in Tuscaloosa, Alabama. (Photo by Kevin C. Cox/Getty Images)
There are a bevy of teams still alive in pursuit of the College Football Playoff but the Auburn Tigers aren't always involved in that discussion. There is reason for that in that Gus Malzahn's team already has two losses but, even if Auburn might be close to dead when it comes to moving itself into contention without big-time help, the Tigers can play spoiler in a big way for the SEC.
Auburn's ability to torch Alabama's CFP candidacy is obvious in that the Tigers have the opportunity to knock off their arch rival on the field. From there, Auburn would need to only win out and, if they beat Alabama, the team would represent the SEC West in Atlanta. On the flip side, though, Auburn is also a big problem for Georgia and Alex Scarborough of ESPN sheds light on the strange predicament.
Georgia, on the other hand, is in a different kind of predicament. Its Week 2 win on the road against No. 3 Notre Dame has the look of a trump card, but what if Auburn beats them not just once but twice? That could happen if the Tigers win this Saturday, beat Alabama and reach the SEC title game where Georgia would await again. And after two losses to the same team, there would be no convincing the CFP committee to admit Georgia into the playoff. The outcry nationally would be beyond comprehension. Now the odds of any of this happening are certainly slim. It's almost just as likely that Auburn will lose both games and folks on The Plains will be calling for Gus Malzahn's job after going 0-8 against his chief rivals since 2013.
It is fair to think that Georgia would still be able to reach the CFP after losing to Auburn, especially if it came with a win over Alabama in the SEC title game. However, losing to Auburn then losing to the Tigers again in Atlanta would be an ugly predicament for the league and the doomsday scenario of not having a team involved in the final four would be a real possibility.
There is a lot of football left by Greg Sankey can't be excited about this kind of situation playing out over the next few weeks.