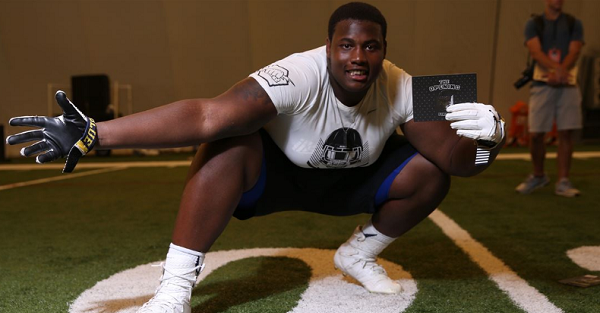 247Sports
There is still plenty of time for 2018 offensive lineman Curtis Dunlap to declare his collegiate decision, but over the weekend the 368-pound monster prospect shed a bit of light in the form of a top five list.
Dunlap hails from IMG Academy in Bradenton (Fla.) and he is currently a four-star prospect according to the 247Sports composite. Quite obviously, the quintet of teams involved for his services are staggeringly impressive, headlined by SEC stalwarts Florida, Georgia and Arkansas.
However, the 247 "Crystal Ball" projections previously showcased Miami in the lead for Dunlap, so the Hurricanes are a (very) notable omission from this list. Beyond that, Jim Harbaugh and the Michigan Wolverines are in the mix and it should be noted that the program did spend a week at IMG Academy last year for practice before picking up two 2017 commits from the institution.
There will be plenty of chatter in advance of Dunlap's final decision, if only because his options provide a very interesting mix to speculate on in the future. Given his size and athleticism, there is an immense ceiling for the rising senior offensive lineman and one of five schools will pick up a big-time commit in the near future.