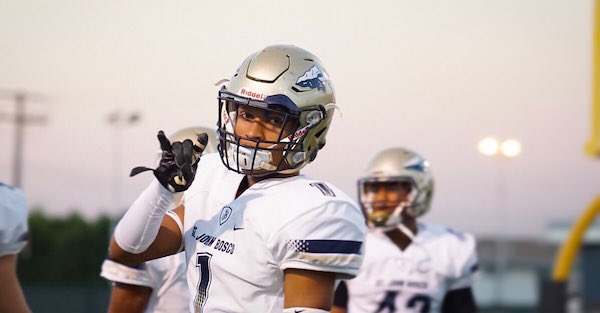 @KinggChris7/Twitter
@KinggChris7/Twitter
Four-star defensive back Chris Steele already has 30 scholarship offers prior to his senior season and is getting serious attention from several major programs.
"Alabama, Texas, Oklahoma, California, USC, Tennessee, and Oregon have been showing the most love," Steele told Scout.com. "The most important factors for me will be the education and how much my parents like the program. I know I'll play early whenever I go, so I'm not too worried about that."
The California native received a scholarship offer from Florida on Monday and noted that he already has a good relationship with head coach Dan Mullen and defensive backs coach Charlton Warren, who recruited him while on Tennessee's staff last season.
"I love coach Mullen and the rest of the program," Steele said. "Coach Warren was recruiting me at Tennessee, so I have a pretty good relationship with him. I'll definitely visit sometime this spring."
Steele ranks as the No. 2 cornerback, No. 5 player from the state of California and the No. 44 overall prospect for the 2019 national recruiting cycle, according to the 247Sports Composite.
The 6-foot-1, 188-pound defensive back plans on making an early college decision and is scheduled to take an unofficial visit to Oregon later this month, as well as several other trips in April.
"I'm taking an un-official visit to Oregon later this month and I'm planning to take some official trips in April," Steele told 247Sports. "I had a real good conversation with Donte Williams (new DB coach) earlier today and he's making me even more interested in Oregon. With him and (Keith) Heyward there now, they're going to get some dudes for sure."