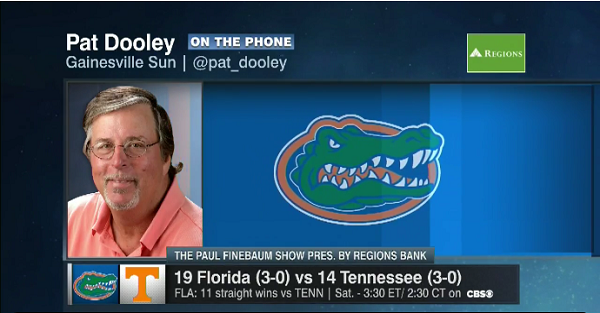 Clippit/bbornstein33
Pat Dooley has been covering Florida sports since he joined The Gainesville Sun in 1987 so he knows a good Florida or Tennessee football team when he sees it. He's also been known to say how exactly how he feels about a team even if it's the one he's covering. He was on the Paul Finebaum show on Monday and he is not impressed with this year's Volunteer squad.
RELATED: Jim McElwain updates injuries for Tennessee game
The Vols are ranked No. 14 in the latest AP Poll and are a cool 3-0 heading into the game against Florida. The Gators are ranked No. 19 and are also 3-0, but have a conference game under their belt with a 45-7 win against Kentucky. The Vols' wins over Virginia Tech, Appalachian State and Ohio don't exactly impress Dooley though as he compared them to the Kardashians!
RELATED: College GameDay confirms Week 4 location
Now that's just all kinds of shots fired from the Florida beat writer. But we'll see who gets the last laugh on Saturday in front of a raucous 100,000 fans and College GameDay.