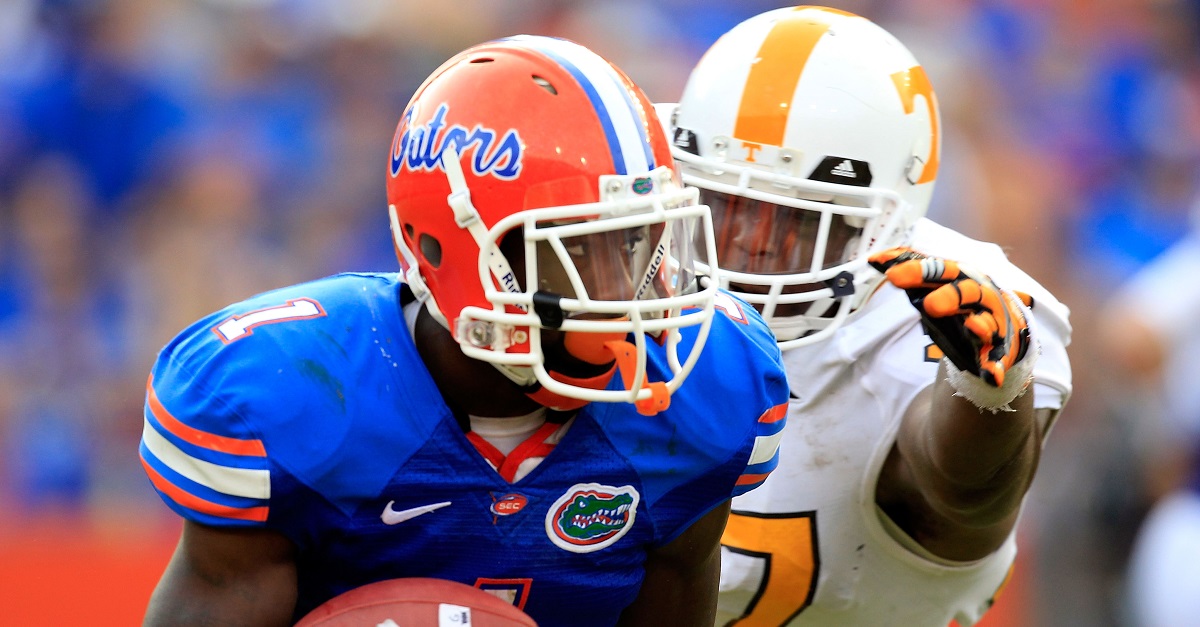 Sam Greenwood/Getty Images
GAINESVILLE, FL - SEPTEMBER 17: Running back Chris Rainey #1 of the Florida Gators is chased by defensive lineman Malik Jackson #97 of the Tennessee Volunteers during a game at Ben Hill Griffin Stadium on September 17, 2011 in Gainesville, Florida. (Photo by Sam Greenwood/Getty Images)
Former Tennessee Volunteers defensive tackle Malik Jackson has a weekly radio show on 1010 XL in Jacksonville where he plays for the NFL's Jaguars. He played for the Vols in 2010 and 2011 before getting drafted by the Denver Broncos and he had an interesting answer when asked if he thought Tennessee would end its 11-game losing streak to Florida on Saturday.
RELATED: Tennessee fan makes embarrassing mistake on GameDay sign
Jackson thinks that the close game against Appalachian State has given UT some extra character and that will help them end the streak.
"I believe so. You know, it's a new Tennessee team. After Appalachian State, I think that builds character; it was good that it was tough and it helped us out. The Hokies game, we won that and I think we're on a roll. I think we're starting to get our feet and starting to move people on that o-line and d-line and I think we're gonna pull it off this week. I don't know if Florida's ready."
The game has a 3:30 p.m. kickoff on CBS and that's when we'll see if Tennessee can end the streak or if the number will grow to 12.
[h/t Gridiron Now]