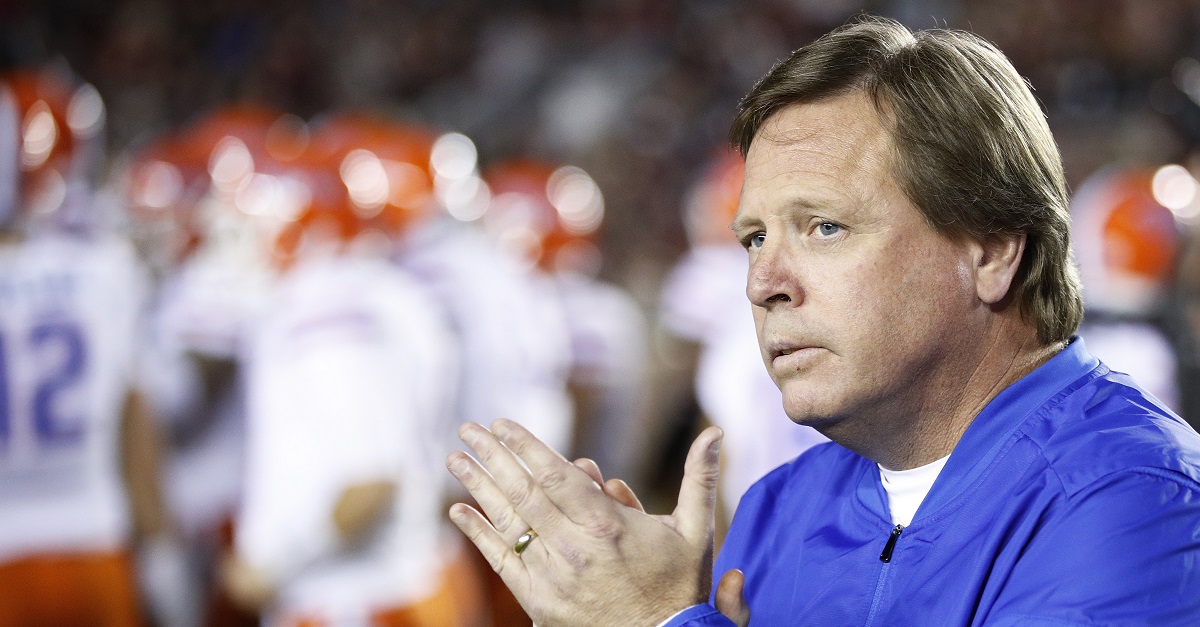 Joe Robbins/Getty Images
TALLAHASSEE, FL - NOVEMBER 26: Florida Gators head coach Jim McElwain looks on before the game against the Florida State Seminoles at Doak Campbell Stadium on November 26, 2016 in Tallahassee, Florida. (Photo by Joe Robbins/Getty Images)
The Florida Gators have lacked exceptional or even decent quarterback play since Tim Tebow graduated. The offense has become stagnant and difficult to watch because of it and this year has been a rather nasty reminder. Graduate transfer Austin Appleby and transfer Luke Del Rio have not cut it so it should come as no surprise that the Gators are looking elsewhere for an upgrade at quarterback.
RELATED: Is Auburn's John Franklin III transferring away from the program?
Former Baylor QB and five-star recruit Jarrett Stidhman is on the market and according to 247Sports, Florida has contacted him about playing. He's currently at McClennan Community College in Texas after transferring out of Baylor after his freshman year. He left after the school fired Art Briles and is looking to make his decision on a new school in December to enroll by January.
RELATED: Former Baylor QB Jarrett Stidham already has a visit scheduled for Week 1
Stidham currently has offers from Auburn and Texas A&M. The 6'3″, 210-pound dual-threat quarterback could be a huge boost for a vanilla offense that's been called conservative and limited by the QBs available. A talent like his could be the shot in the arm this Florida offense needs going into the future.
[h/t SEC Country]