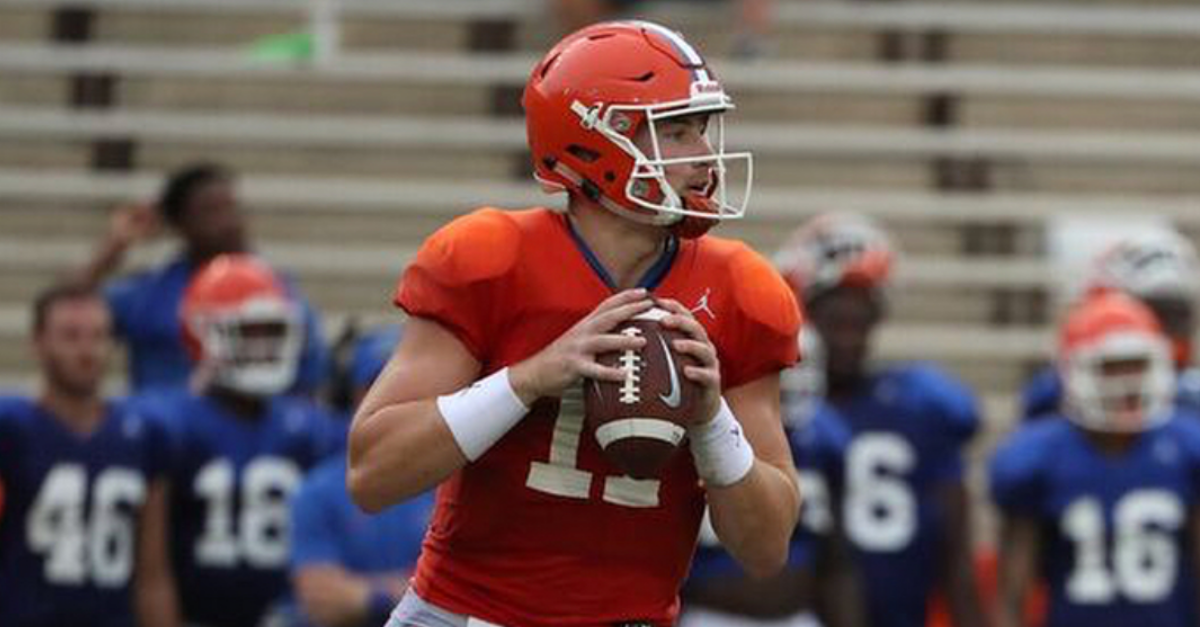 Instagram: @ktrask11
Just when you think Florida's quarterback situation can't get any worse than it already is, or has been over the last decade, the program suffers yet another blow at the most important position on the field. Kyle Trask, the back-up to Feleipe Franks, reportedly suffered a non-contact injury to a lower-body extremity during Wednesday's practice and had to be carted off the field, per 247sports.
Michael Trask, Kyle's father, apparently posted to Facebook that his son fractured his foot while practicing a trick play and will miss the remainder of the season, via the Orlando Sentinel's Edgar Thompson:
"Gator Nation, I am sad to say that Kyle was injured today in practice while doing a trick play where he hands off to the RB and then goes out for a pass. The throw to Kyle was low and when he planted his foot to catch the pass he felt a pop.

"Unfortunately he fractured his foot and will be out for the season. Just a freak injury. The good news is that it will be minor surgery and he will be 100% for spring ball in 2019. Thank you for all the well wishes and support for Kyle, we appreciate you very much! Continue to pray for Kyle's recovery."
Graham Hall of the Gainesville Sun reported that the injury could cost Trask the rest of the season, and it appears that is likely true. The team has not confirmed the injury news.
Related: Does Will Grier Win Florida a National Championship if He Never Transfers?
Losing Trask essentially cements Franks as UF's starting quarterback for the final stretch of games. Trask has appeared in four games this season, completing 14 of 22 pass attempts for 152 yards and one touchdown.
The redshirt sophomore most recently outplayed Franks in Florida's 38-17 loss to Missouri. Trask threw for 42 more yards (126), a touchdown and finished with a passer rating of 132.7 — nearly double Franks' 73 pass rating.
Trask's performance raised questions as to whom head coach Dan Mullen would start Saturday against South Carolina. The team's depth chart seemed to answer those questions, though, and Mullen was likely to start Franks anyway.
Trask's injury marks the third time in the last six years a Florida quarterback has seriously injured some part of his leg during the season. Luke Del Rio partially tore the MCL in his left knee in 2016. Jeff Driskel broke his leg during a game in 2013.
Assuming all the reported info is correct, freshman Emory Jones immediately becomes the back-up to Franks and would be thrusted into starting action if Franks got injured, too. The Gators still likely plan to play Jones in certain offensive packages for a couple games to keep his red shirt, but one would think those plans are fluid if Franks plays poorly.