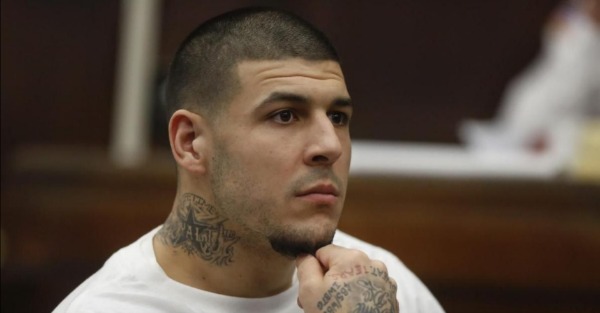 Aaron Hernandez raked up disciplinary offenses behind bars as fast as he racked up yards on the field.
Hernandez accrued an astounding 78 disciplinary offensess during his nearly two years at the Souza-Baranowski Correctional Center in Shirley, Mass. Most of the incidents took place in the first three months of incarceration, according to a report in USAToday.
The fact that so many violations happened right after he was jailed makes sense, from a prison life perspective, since new inmates have to prove themselves inside.
Hernandez  racked up 25 violation over an eight-day span after he was convicted, in 2015, of killing his friend Odin Lloyd.
Hernandez fought inside, served as a lookout for fights, got a neck tattoo that said LIFETIME and was prone to profane rants, according to disciplinary records USAToday obtained. He fashioned a piece of metal in to  a make-shift knife
"You ain't got (expletive) on me (expletive)," Hernandez told a corrections officer after his first prison fight. "You just making up (expletive).
Hernandez killed himself in his prison cell a few days after being found not guilty in a double murder. He was still serving a life sentence for killing Lloyd.
More from the Aaron Hernandez saga
A new report shows Aaron Hernandez joined some vicious, violent company while he was in prison
More bloody details emerge from the Aaron Hernandez suicide
After his death, Massachusetts Appeals Court could make stunning announcement on Aaron Hernandez
Aaron Hernandez allegedly told an NFL reporter he'd kill him
More details emerge in the evolving battle over Aaron Hernandez's money
Jury forewoman in Aaron Hernandez trial makes an explosive statement about the verdict