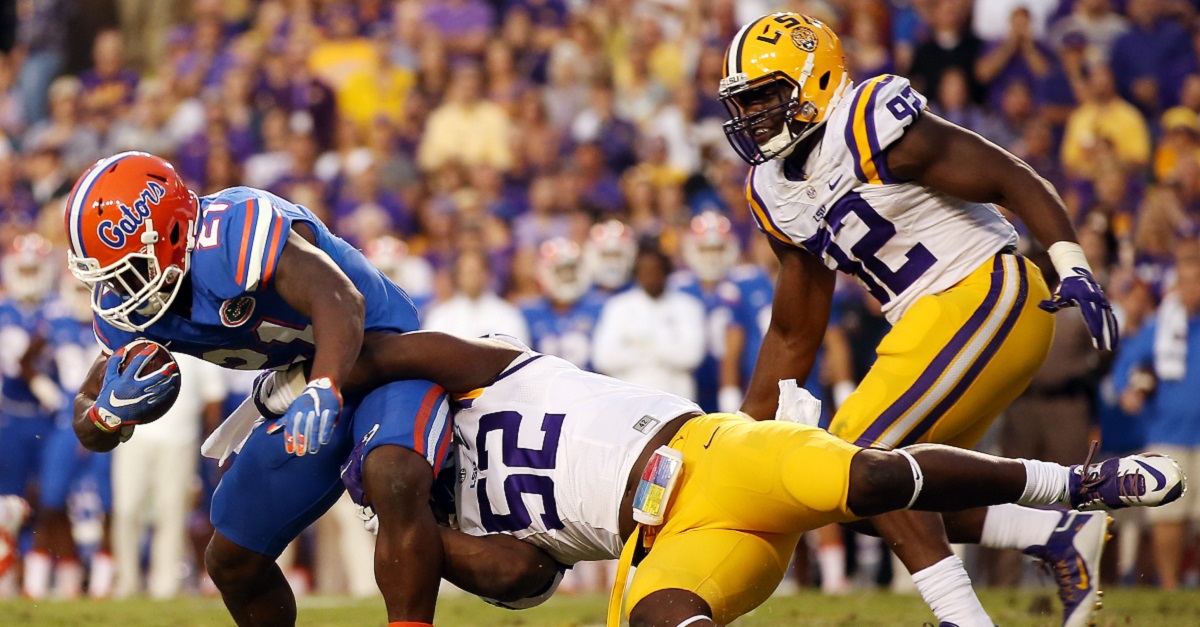 Chris Graythen/Getty Images
BATON ROUGE, LA - OCTOBER 17: Kelvin Taylor #21 of the Florida Gators is tackled by Kendell Beckwith #52 of the LSU Tigers at Tiger Stadium on October 17, 2015 in Baton Rouge, Louisiana. (Photo by Chris Graythen/Getty Images)
Hurricane Matthew and the potential fallout from the winds and rains has caused a lot of problems for the state of Florida so far this week. The Category 4 hurricane has already started buffeting Miami with those winds and rains and is expected to make its way up the east coast of the state. That has disrupted several games with FAU and Charlotte having to move their game to Sunday.
RELATED: Another game has been postponed thanks to Hurricane Matthew
Tulane and UCF have also moved their game to November 5 when both teams happen to have a bye week. Two other major games have been expected to get moved or even change venues because of the hurricane. The FSU-Miami and Florida-LSU games have been waiting on confirmation of a game-on or a change and it looks like we finally have it for the SEC game.
RELATED: UCF and Tulane postpone game ahead of Hurricane Matthew
The decision apparently is not clear to one school as Florida claims the game is postponed and not cancelled:
Meanwhile, LSU beat writers are claiming that the game is cancelled all together.
The SEC has made it clear though that the game is postponed rather than cancelled all together.
There will be some serious reshuffling in the scheduling department for both schools and that could spell trouble for potential cupcake opponents out of conference that the two teams were hoping to get an easy win against later in the season.