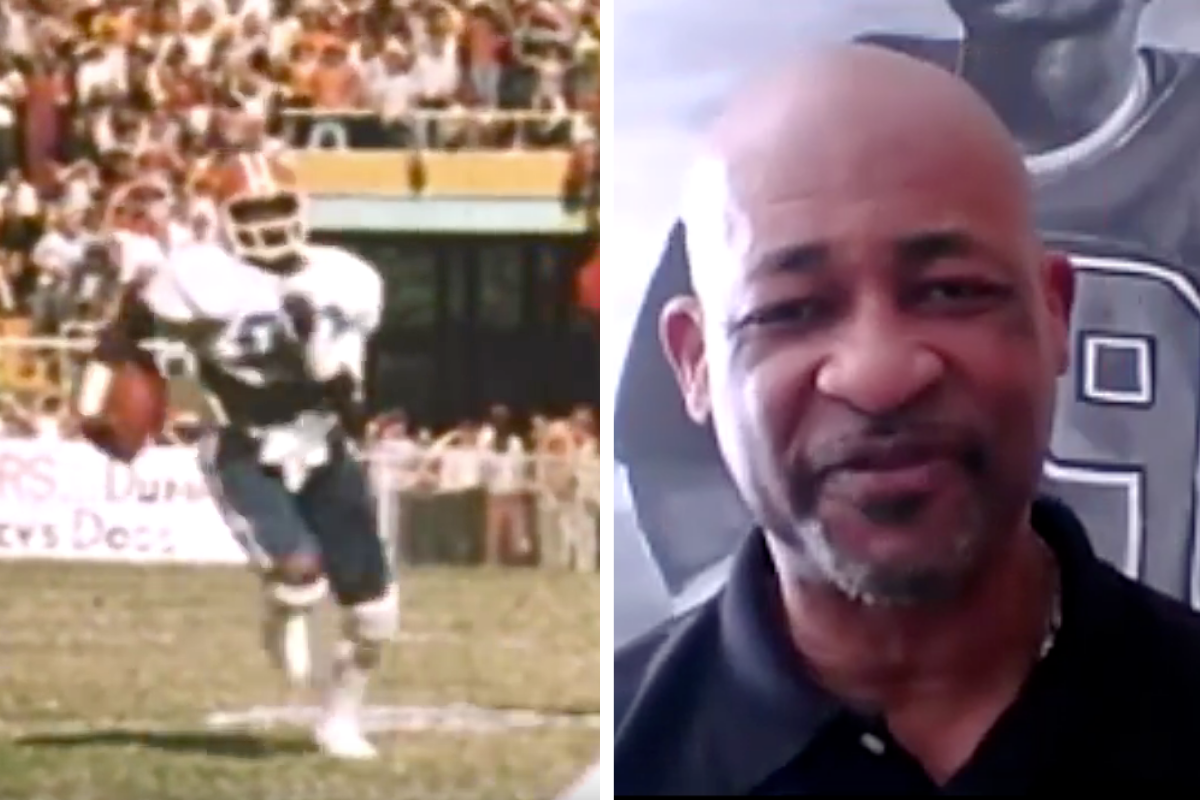 Screenshot from YouTube (left)Screenshot from YouTube (right)
The state of Florida consistently produces some of the best football talent in the country.
So, it shouldn't be taken lightly when someone is labeled as one of the best players in state history, let alone in the history of the Florida Gators.
Wes Chandler proved his worthiness of the title at every level. In high school, college and the NFL, the wide receiver excelled.
Chandler's long football career brought plenty of highlights and accolades, but what happened to the star wideout after he hung up the cleats?
Wes Chandler at Florida
RELATED: Wilber Marshall?s ?Trojan Tackle? Added To His Gator Legacy
Chandler grew up in New Smyrna Beach, Florida and attended the aptly-named New Smyrna Beach High School. His stellar high school career allowed him to play college football in state at the University of Florida.
In Gainesville, Chandler thrived despite playing in a run-first offense. Four seasons of burning corners resulted in 93 receptions for 1,994 yards, 22 touchdowns and a catch average of 21.4 yards. The last stat is insane to me. Either Chandler was only hauling in bombs or no one could tackle him after the catch.
The American football player's college career deservedly earned several recognitions. He was a two-time All-American, two-time First-Team All-SEC member, a First-Team Academic All-American and an inductee of the Florida-Georgia Hall of Fame, University of Florida Athletic Hall of Fame and College Football Hall of Fame.
Chandler made the most of his time as a Florida Gator, and he brought his talent to the National Football League.
Wes Chandler NFL
The New Orleans Saints selected the Florida wideout with the third overall pick in the 1978 NFL Draft.
Chandler was one of quarterback Archie Manning's favorite targets down in the Big Easy. The receiver is more known for his time with the San Diego Chargers (now Los Angeles Chargers). He came to San Diego via trade in 1981. He was acquired to replace stud receiver John Jefferson.
The NFL player shined in southern California, with his best season coming in 1982. That year, he totaled 1,032 receiving yards, nine touchdowns and averaged 129 yards per game in only eight appearances.
Chandler continued to perform well until we has traded to the San Francisco 49ers in 1988. He retired only four games into the season due to a knee injury. The Niners went on to win the Super Bowl that year.
Chandler's professional football accomplishments speak for themself:
? 4x Pro Bowl

? First-Team All-Pro (1982)

? Second-Team All-Pro (1979)

? NFL receiving leader (1982)

? NFL receiving touchdowns leader (1982)

? San Diego Chargers Hall of Fame

? San Diego Chargers 50th Anniversary Team

? San Diego Chargers 40th Anniversary Team
Chandler finished his NFL career with 559 receptions for 8,966 yards and 56 touchdowns, cementing him as one of the most underrated receivers in NFL history. He also handled punt return and kickoff return duties, bringing his career all-purpose yardage to 10,561.
Wes Chandler Now
The College Football Hall of Famer moved to coaching after his playing days. He coached around the now-defunct NFL Europe for a few years before moving back to the states. He's coached at UCF, Cal, the Dallas Cowboys, Minnesota Vikings, Cleveland Browns and New York Sentinels as a wide receivers coach. He also was a founder and the first president of Major League Football.
Chandler is involved in many industries these days. According to his LinkedIn, he is a partner of CBD company Tiva Bio, the founder of WCTE?a biopharmaceutical company focused on treating CTE?and the President and CEO of AFX Entertainment?an entertainment and sports company.
Although Chandler isn't in the Pro Football Hall of Fame, he's one of the best to ever do it. He's also found ways to stay busy after his playing career.