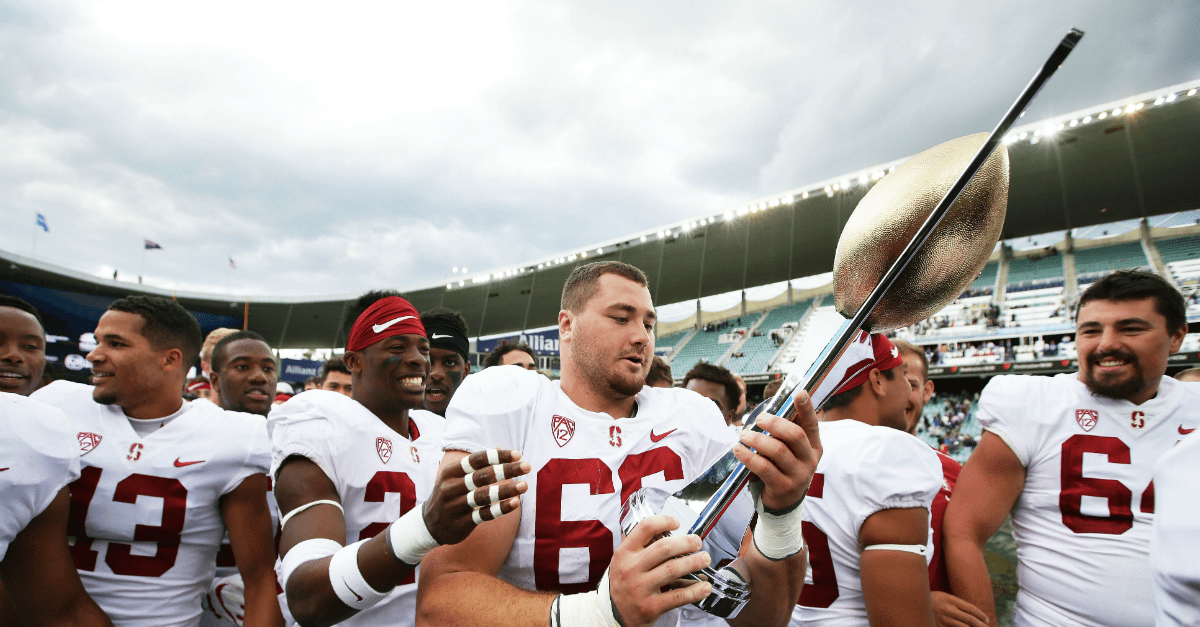 Matt King/Getty Images
SYDNEY, AUSTRALIA - AUGUST 27: Harrison Phillips of Stanford and team mates celebrate winning the College Football Sydney Cup match between Stanford University (Stanford Cardinal) and Rice University (Rice Owls) at Allianz Stadium on August 27, 2017 in Sydney, Australia. (Photo by Matt King/Getty Images)
Harrison Phillips, a former Stanford Cardinal standout, claims the school is like the SEC, but that you can get a diploma there.
No. For real. That's the level of shade Phillips hurled.
At the Senior Bowl, during an interview with some NFL analysts, you can hear the defensive tackle begin to make the comparison, but take a very rap-battle like turn toward the end.
?Stanford, when I committed, was coming off a season where they were ranked fourth in the nation, Rose Bowl champions, Pac-12 champions,? he said. ?I believe they had eight players drafted. They?re almost like a football factory, kind of like the SEC is, except they get you your diploma.?
That is a mic dropping line.
Funny enough, analyst Charles Davis, who was on the other side of the interview, cut off the former Stanford talent to talk about his two degrees from Knoxville.
For what it is worth, it doesn't appear Phillips was trying to slander SEC schools. He actually tried to backpedal a bit, saying he was simply talking about Stanford?s reputation as the ?Ivy League of the West.?
For us who love anarchy in our sports, too bad he didn't double-down on his original sentiment. Nevertheless, I am sure SEC fans are going to handle this well.