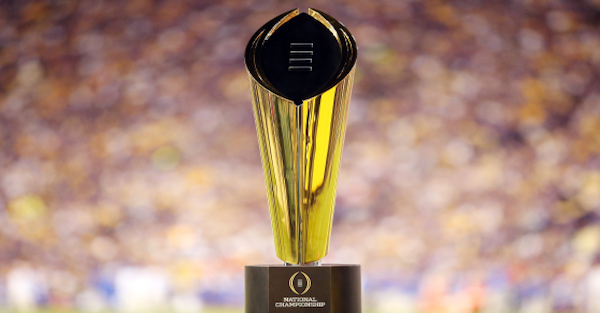 BATON ROUGE, LA - OCTOBER 17: College Football Playoff National Championship Trophy presented by Dr Pepper is seen at Tiger Stadium on October 17, 2015 in Baton Rouge, Louisiana. (Photo by Chris Graythen/Getty Images)
How awesome is this? For the first time in conference history, a school finally got picked to win its division and conference. That's over in the Pac-12, which announced today that the media, in its preseason poll, has picked the Stanford Cardinals to win the conference for the first time in Pac-12 history, a span of 56 years.
Per the official release, the Cardinal received 20 votes to earn the preseason favorite pick. Stanford collected 186 points for the top spot in the North Division, holding 24 first-place votes.
The media picked UCLA to win the Pac-12 South, as the Bruins collected 19 first-place votes and totaled 180 points to edge out USC. The Bruins also picked up three votes to win the Pac-12 Championship. The Trojans, who garnered the second-most championship votes with five, tallied 173 points.
The pick isn't all that surprising — with Heisman frontrunner Christian McAffrey coming back in 2016, and an impressive 45-16 thrashing of the Iowa Hawkeyes in the Rose Bowl to ring in 2017, the Cardinal have all the tools to be College Football Playoff contenders. Stanford has claimed 15 Pac-12 titles, with the latest coming last year and in 2012 and 2013. Before this, their last title came in 1999.
Congrats to Stanford, who finally gets some preseason respect after 56 years inside the Pac-12.