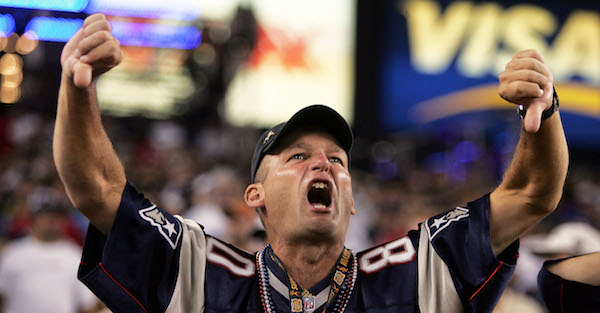 Nick Laham/Getty Images
FOXBORO, MA - SEPTEMBER 8: A fan of the New England Patriots boos the Oakland Raiders before their 2005 NFL opening game at Gillette Stadium on September 8, 2005 in Foxboro, Massachusetts. (Photo by Nick Laham/Getty Images)
College football fans don't love the targeting rule. While the letter of law makes sense and it is definitely a good idea to promote player safety, the interpretation and implementation of the targeting penalty has been a grand source of outrage and bewilderment across the country since the moment the rules arrived.
With that said, the (relative) nightmare could be making its way into the professional ranks, albeit in a slightly different form. Troy Vincent, a former Pro Bowl defensive back and the NFL's executive vice president of football operations, took to Twitter to let the world know that the league is weighing the potential addition of targeting-like penalties.
If this were to take place, it would come with a preemptive warning and with examples of what to avoid.
Given the lack of full context here, it is important to note that nothing is set in stone and that this appears to be (very) preliminary in nature. Still, the idea that the NFL would add yet another rule that is difficult to interpret seems like a potential problem for a league that is already battling the "what is a catch?" landscape on a weekly basis.
It will be intriguing to see how quickly this type of legislation moves.