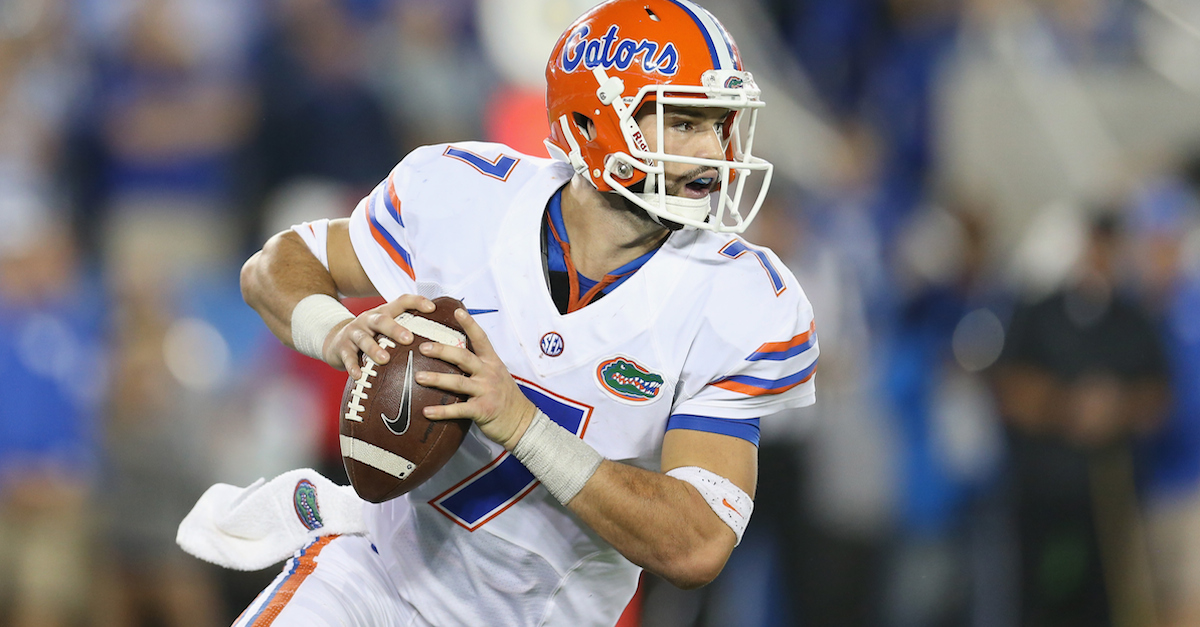 Andy Lyons/Getty Images
LEXINGTON, KY - SEPTEMBER 19: Will Grier #7 of the Florida Gators looks to pass the ball against the Kentucky Wildcats at Commonwealth Stadium on September 19, 2015 in Lexington, Kentucky. (Photo by Andy Lyons/Getty Images)
Former Florida quarterback Will Grier was in high demand after deciding to transfer from the Gators program following a PED suspension. That is, of course, what happens when a player who throws for 1,204 yards and 10 touchdowns in six games hits the open market due to unforeseen circumstances, but Grier opened up to Bleacher Report about his decision to transfer to West Virginia and it was illuminating.
Among the revelations from the interview was that Grier was heavily pursued by two elite-level programs in Ohio State and Oregon.
"So when I was looking at other schools, I wanted to find a coach who wanted me. Urban Meyer probably recruited me the hardest, and Oregon did, too. West Virginia was close to home (Charlotte, North Carolina), so I visited and just loved the way they practiced and the way Dana taught the quarterbacks. It was exciting."
It is very interesting to consider what Grier would look like in a Buckeyes uniform, especially with the strong work of J.T. Barrett and Braxton Miller before him. To be clear, though, Grier would have been forced to wait out Barrett in Columbus and, with all of the uncertainty in Eugene, the talented signal-caller elected to take his talents to Morgantown.
Will Grier is a very talented player, but we will be left to wonder what he would have been able to accomplish in a different location.